How Technology Affects Your Retail Customers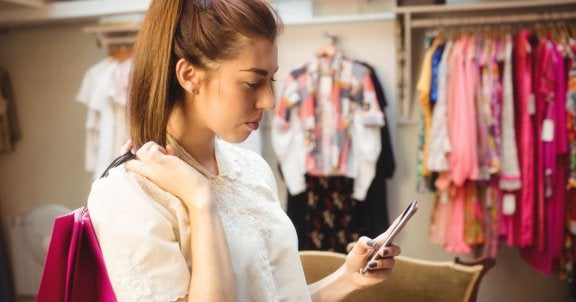 Technology is transforming the relationship between businesses and consumers. Companies must adopt all things digital in order to meet customer expectations. For businesses in the retail industry, the impact of failing to adopt the latest technology can often be seen faster than in other industries—these organizations do, after all, rely on repeat business much more heavily than companies in different sectors.
However, retailers should not consider this necessity to embrace digital transformation as a sprint. It is a marathon and every marathon begins with a strong foundation of preparation. In this case, preparation means getting the basics of retail technology right- WiFi and a good Phone connection.
Customer Technology Expectations
The basics of technology that every retailer should acquire are all directly related to customer expectations—the numbers behind which are clear. Studies have shown that 50% of consumers state that free guest Wi-Fi increases their comfort level with making a large in-store purchase. And this is not necessarily about a retailer's social media pages or their point-of-service technology. Instead it is about showing the customer that they matter and so do their preferences.
Many retail customers shop with their phones or tablets on them—70% in fact. The reason for this is that consumers from just about any demographic category need to have access to the outside world at all times. This can be seen through the fact that 90% of the time that customers are on their Phones when they are shopping, they are on social media, completing banking tasks, checking their email or calendar, or shopping. Facilitating multi-tasking will lead to a better shopping experience and a higher likelihood that customers will stay in-store for longer periods of time.
Additionally, there is the fact customers prefer WiFi to other benefits. Breden Research conducted a survey of entrepreneurs and other small business professionals from across the country. The survey found that establishments that offer WiFi create noticeable benefits. More specifically 65% of businesses that offer free WiFi have seen an increase in repeat business, 55% have seen an increase in new customers, and 79% have seen an increase in customer satisfaction.
The fact that retailers should be offering free in-store WiFi is not just about keeping up with the competition that is rapidly adopting various tech tools. It is not even just about providing customers with more convenience. It is about meeting basic consumer demand and global expectations. The United Nations made this clear when they stated that internet access now falls into the basic human rights category—and this was all the way back in 2012.
Benefits of Free WiFi and A Strong Phone Connection
1. Happier Staff
One of the keys to customer loyalty is customer service. When customers feel that they have been served well, that retail employees and management have gone out of their way to make the experience special, and that the atmosphere in the store is positive their experience is enhanced. These three factors can only happen, though, if the staff is happy.
And while employee satisfaction comes from many factors, one important consideration is providing them with a comfortable and convenient workplace. WiFi does this. This tool enables the staff to enjoy their breaks, easily update the store's social media platform, and look up business or industry information that can accurately answer customer questions. Additionally, a quality Phone line connection reduces stress and annoyance when making business calls about inventory and other customer service queries.
2. The WiFi-Phone Power Combination
WiFi and phone connections are each powerful incentives for customers. However, when these two tools are combined, they offer a larger benefit. Customers want to be able to rely on the stores that they go to. Knowing that in case they run out of battery, they can make a quick call or, if they run out of data, they can connect to WiFi and accomplish a small task is a strong incentive to shop at a specific store.
A secure WiFi connection also creates trust. Customers will feel safe logging into various apps and mobile websites that contain their personal and financial information. They know they can upload and download valuable data that is private without risking it being hacked or stolen. A similar logic applies to Internet speed. A strong WiFi connection lowers stress and frustration and can often ease the purchasing process.
3. Bigger Customer Purchases
When customers know a shop offers free WiFi, they view it as somewhere they can stay for longer than a quick purchase. They begin to view the establishment as a place they can rely on to provide them with two necessities: A shopping experience and a connection to the outside world.
55% of businesses that offer free Wi-Fi have seen increased sales during each customer visit. Customers are able to take their time shopping, slowly walking through the store and getting a look at the wider variety of products available. This creates the opportunity for them to find out about a product that they had never seen before. This may spark ideas about how they or someone they know could use it.
And then there are the new customers. If they pass by and they may pick up your WiFi connection. Instead of loitering outside, they will often come in and browse while they accomplish what they need to get done. In short, it creates an entirely new customer acquisition opportunity.
4. Event Hosting
A reliable WiFi connection gives retailers the opportunity to host events in their stores. They can utilize more complex technology and pair it with WiFi to create memorable experiences. Management can introduce GPS shopping, market it to the entire community, and host a big event on the day of its launch. The same goes for augmented reality tools.
Alternatively, these tools can be used as an excuse to hold regular events, where the retailer encourages customers to come in and enjoy shopping with powerful and engaging technology that makes their shopping decisions faster and more effective than ever before. We do the same at our retail locations, where we use our connections to host helpful technology workshops and webinars. In the end, this empowers retailers to join the new trend of experiential retail—or provide customers with an experience that they will never forget.
5. Staff Productivity
While 33% of establishments that do not offer WiFi state that one of their main concerns is employee distraction, the opposite proves to be true. Businesses that offer free WiFi are seeing enhanced employee productivity. Over a third of establishments see their staff tracking inventory with the available WiFi and nearly half see employees accessing corporate resources with it (i.e. online training and business software). In short, employees can more effectively run retail stores when they can use WiFi to access better tools. In the end, this provides a smoother-running establishment that customers will enjoy coming back to again and again.
Beyond this, though, it allows employees to maintain social media. This maintenance is becoming both more and more necessary and more and more difficult. Different demographics prefer different platforms—while a quarter of the Baby Boomer generation prefers Facebook, Millennials tend to use Snapchat and Instagram—and each platform must be optimized with its own unique content. Quality in-store WiFi empowers this multi-channel process.
6. An Extra Marketing Tool
There are obvious and direct benefits that free WiFi creates for retailers that, in turn, result in repeat business. However, there are also more subtle tools for retailers to utilize that create benefits associated with WiFi. One such tool is Wi-Fi remarketing.
Once a retailer obtains a WiFi connection, they can then partner with a Wi-Fi remarketing service. This service creates a form that customers fill out in order to connect to the WiFi. The form collects information such as the customer's name and email, as well as consent for the business to email the customer about promotions and events that they are offering.
Shops can then use this to build their mailing list. They can provide customers with incentives to come back in their email marketing campaigns and develop a strong brand voice that builds a relationship with their customer base. Additionally, they can use the form to ask for additional information, such as age, location, and more. This then creates the opportunity for establishments to create more personalized campaigns that more effectively target customers and their interests.
Finally, retailers can offer customers the ability to rate their experience at the store and provide feedback. Management can then use this information in two ways. First, they can make improvements to their systems, services, products, and operations. Second, they can then contact the customer if there was a problem in an effort to resolve the situation and help reduce the customer's negative experience, encouraging them to both come back and become a brand promoter rather than a detractor.
Buckeye Broadband
Buckeye Broadband is a Phone, Internet, and Cable provider in northwest Ohio, Southeast Michigan, and Erie County.
Unlike some of the larger providers in our industry, we prioritize customer satisfaction and relationships. We work with our customers to help them choose the right package for their establishment, their customers, and their employees. We are also flexible in our pricing models so that establishments with varying budgets can get the right package for their needs. Finally, we offer Phone and Internet bundles, as well as Business WiFi, for businesses that just make more sense—this means that you are guaranteed to get the right amount of data and speed to improve your customers' WiFi experience and secure their transactions.
And then there is the support we provide. We have a support team specifically designed for our business customers- Brainiac Pro. They are local, will strive to create a strong and lasting relationship with your business, and can quickly connect you with our technical support team. Most importantly, this technical support team is available around the clock. So if something goes wrong with your phone connection in the middle of a weekend, they are there to help. This includes over-the-Phone assistance and field technicians who can come out at any time.
No more spending hours on hold or waiting days for a technician to come out and fix the problem. We offer help when and where you need it--and we do it at an affordable price. For a quote, please contact us.