Living Local's BEST Episodes in Celebration of Season 3 Premiere!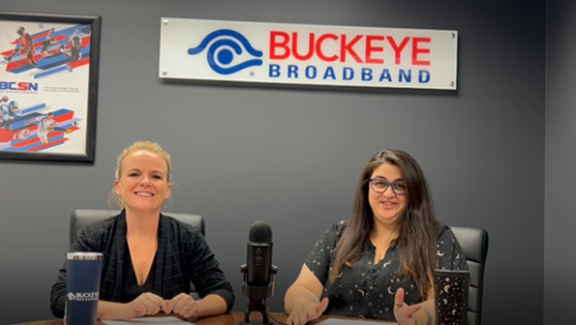 Now that our local hostesses Rani and Kim have started their third season of the Living Local Toledo podcast we're all super excited to see what's in store. Coming soon to a conveniently located internet-connected device near you, we're planning and plotting more hot topics for the 2022/23 season. In the meantime, let's take a brief look back at some of the best broadcasts published during our first couple of years in our most popular and favorite categories including:
Today's Top Tech + More
Part of tackling today's technology is keeping aware of potential threats that could devastate users in multiple ways. Don't Get Tricked Let's Talk About Scams is one of the recent episodes where Kim and Rani get real, down-and-dirty to discuss this important topic. Look for future episodes that dive into the high-tech world today and that will bring these kinds of topics to light and life.
Hot + Exciting Holiday Entertainment
As summer winds down, the Fall holidays are right around the corner when autumn temperatures bring a chill to the air. On the other hand, fans of these seasonal holidays (especially those folks crazy about Halloween) are always looking for the best in present and past favorites to get our blood pumping. You could say that currently, audiences are looking forward to Hocus Pocus 2 (slated for theatrical release on September 30th, 2022).
Sequels like this one have always encouraged us to watch (and rewatch) our favorite scary classics time after time revisiting some of the things that scared the living stuffing out of us. Check out these fall favorites (and other holiday-themed) episodes from K&R in the recent past:
Think about films like Nightmare Before Christmas or the havoc the Gremlins released during the holidays. They were both cute and creepy at the same time.
Local Hot Spots 4 Having Fun Year-Round
Whether you're new to the area or a seasoned resident of this region, Rani and Kim are happy to share their local hot spots for having fun either under the sun or indoors at their favorite places and locations. You might want to take a moment and check out podcasts like those showcasing Valentine's Day and other seasonal favorites and ways to spend and share these red-letter dates.  
Supporting Our Community, Charities, and Giving Back
All of the above have been at the forefront of our backbone here at Buckeye Broadband blog and our podcast since day one. There are so many worthwhile charities and ways of giving back to our community, we're proud to highlight some of them during our broadcasts and on our blog. Whether you're considering a monetary donation or volunteering your time, be sure to stay tuned to these topics so we can all help the less fortunate and those in need.
The Future's So Bright = I Gotta Wear Shades
Does anyone remember that one-hit-wonder from Timbuk 3, The Future's So Bright (I Gotta Wear Shades)? We also love trivia and are looking forward to the future with Living Local Toledo scheduled to air even more new topics along with blasts from the past.  Look for new and exciting topics about the arts, culture, and fantastic foods (found both nationally and locally).
For more of these eye-opening broadcasts, trending news, pertinent posts, and more stay tuned to our podcast, and be sure to follow us on Facebook while reading the Buckeye blog. Be sure to chime in online and listen to the premier of Season 3 where Kim and Rani chat about what's in store for this fall while reminiscing about their summer highlights. We're looking forward to seeing you!