John Grisham is Visiting The Toledo Library to Celebrate IFL Italian Bowl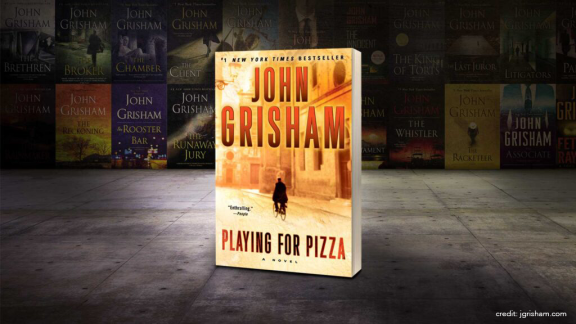 John Grisham is a renowned best-selling author who has published over 40 books. He has sold more than 300 million books worldwide, many of which have been translated into 42 languages and adapted into movies and television shows. Now, in celebration of the upcoming Italian Football League Championship, Grisham will be coming to Toledo! 
Grisham Is Coming To The Glass City 
The Italian Bowl (sponsored by many businesses including us at Buckeye Broadband) is happening in Toledo's very own Glass Bowl Stadium on July 1st.
In honor of this approaching event, John Grisham will be visiting The Toledo Lucas County Public Library to participate in a panel (alongside pro football players Nick Eyde, Kris Durham, and James Starks) for his IFL-based book, "Playing for Pizza" on Saturday, June 10th (2:00-3:30pm).
Eager to hear from Grisham? The library has FREE tickets for this event! 
"Playing for Pizza" 
"Playing for Pizza" is a heartwarming departure from John Grisham's usual legal thrillers. The novel tells the story of Rick Dockery, a third-string quarterback for the Cleveland Browns who becomes a national laughingstock after his performance in the NFL. 
After being shunned, Dockery pushes his agent to find a group that will take him and is sent to play for the Parma Panthers, an Italian Football League team. Grisham does an excellent job of capturing the passion and intensity of the league while highlighting the cultural differences between America and Italy as Dockery tries to adjust to life in a new country. 
It is a heartwarming and entertaining read that features second chances and the power of determination and perseverance in achieving one's dreams. 
The Italian Football League 
The Italian Football League (IFL) plays a significant role in "Playing for Pizza" as it is the backdrop for Rick Dockery's story. So what is the Italian Football League? 
The IFL is an action-packed league with some of the best players from around the globe. Although some may assume the IFL is soccer as many countries call the sport football, this league is the same as our touchdown-filled American football league! 
Want to learn more? We have a blog post dedicated to the IFL, which explains how to watch the games on BCSN, team pronunciations, and more. 
The Italian Bowl 
If you're a fan of the Italian Football League, or are interested in learning more about it, you won't want to miss the Italian Bowl on July 1st at the Glass Bowl Stadium. This is the first time the championship is outside of Europe and it promises to be an exciting match-up. You can grab tickets at the official Italian Bowl website! 
Can't make it to the game in person? Don't worry - BCSN will be covering all the exciting plays the Italian Bowl brings, so you won't miss a minute of the action.