Get Your Tickets For The Nutcracker and Trans-Siberian Orchestra NOW!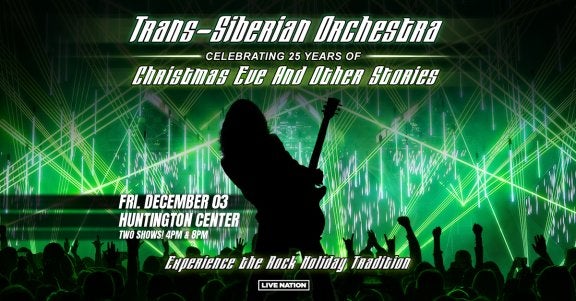 One of the best parts of celebrating the holidays is enjoying long-lasting, time-honored traditions including watching our favorite live performances on local stages. Two of the absolute best of these venues are classics like The Nutcracker ballet and magnificent musical performances, along with stunning light shows coming from the Trans-Siberian Orchestra. Both of these beloved presentations are available in Toledo, but they're happening early in December so get your tickets now before they're sold out!
Enjoy the Dazzling Trans-Siberian Orchestra Presentations
We'll start off with TSO ( aka the Trans-Siberian Orchestra) since their performances (only two) will arrive the earliest on the first Friday in December.  It's difficult to discern what is more magnificent about their presentation, whether it's a full orchestra, the stunning light show that accompanies the music, or an original storyline woven into the tapestry. In any case, here are the fast facts about this spectacular show:
PLACE: The Huntington Center at 500 Jefferson Avenue in downtown Toledo
DATE: Friday, December 3rd, 2021 - one night only
TIMES: The matinée unfolds at 4:00 p.m. and 8:00 p.m. is the time for the unveiling of the evening performance
PRICE: Expect prices to vary according to the provider, seat locations, and the times as noted previously 
Generally speaking, ticket prices come in at around $70 and go up to under $100+ for better seats available from venues like Ticketmaster. Late-comers to the ticket purchasing process may fall victim to last-minute price changes and scalpers. In other words, if you want really great seats for this awesome experience, climb on board sooner rather than later and secure your best viewing option to enjoy the show. You can also enter to win front row tickets at buckeyebroadband.com/contest but hurry - entries close on November 19! 
BONUS: A Few Fast Fun Facts About the TSO
Fans of this fantastical show have already seen (and heard) how a full orchestra takes this classical experience to a newer, extraordinary more modern, rock genre. It comes complete with an amazing, perfectly synchronized light show, and a spectacular story-telling experience bringing the entire experience to a new level. The musical term crescendo might come to mind when a full orchestra begins slowly and then builds to a fantastic, full flow of multiple musicians playing magically together with their many instruments.
The Nutcracker - A Timeless Ballet For All Ages
Speaking of magic, perhaps no other stage [presence delivers all the eye-opening parts of a beautiful ballet performance like The Nutcracker. This includes an intriguing storyline, beautiful backgrounds, picturesque, perfect dance routines, stunning wardrobes, and costumes. While the fantastical backbone of these dazzling dance performances is somewhat child-like in essence, it's still a classic tale that entertains audiences of all ages. Here are the fast facts about how to enjoy this timeless ballet in Toledo:
PLACE: Stranahan Theater, 4645 Heatherdowns Blvd, Toledo, Ohio 
DATES: December 10th through the 12th, Friday, Saturday, and Sunday 
TIMES: Evening performances unfold at 7:00 p.m. on the 10th and 11th while matinée shows are available at 2:00 p.m. on the 11th and 12th. 
PRICE: Again, expect prices to vary according to different platform providers, times, and dates
BONUS: Giving Back While Paying it Forward
When purchasing tickets to one (or more) of the performances from The Toledo Ballet, remember a portion of the proceeds go towards benefiting the arts and culture platforms in Ohio especially their namesake orchestra. It's a way of giving back while paying it forward when enjoying these awesome performances at this local non-profit location. In other words, enjoy the show knowing your dollars are supporting other presentations like this one. 
A Closing Curtain Call
Here at Buckeye Broadband, we're always working to offer the very best in entertainment experiences and options even they aren't airing on one of our many screens. This includes what's happening all over Toledo, this part of Ohio, rain, sunshine, or snow, winter or summer. In this light, be sure to tune into our Living Local Toledo podcast for more information about everything going on with events, local charities, and so much more. And finally, here's wishing you and yours the happiest holiday season along with a joyous and prosperous New Year.