Competing with the Big Brands: How to Distinguish Your Small Business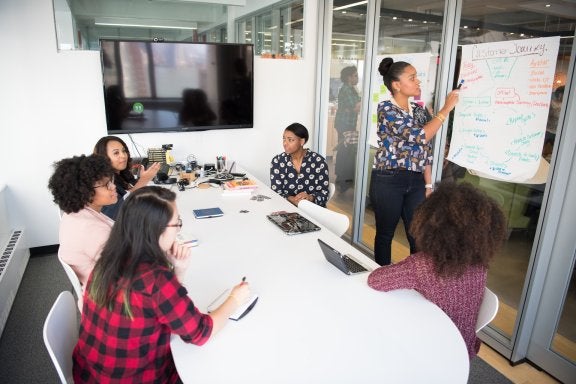 Chances are good you started your business because you believe in what you do. You work hard to provide your clients with quality products or services. You know how good it is, but how do you get that message to others? How do you shine a light on your business when you are competing with brands that nearly everyone recognizes by logo - or by jingle. It is important to be clear the one thing you do not want to try to compete on is price. Big companies have a lot of resources to outlast you in that arena. So let's zoom in on what your advantages are, or can be. 
Quality
Whether you have a product or service, if you are a small business, chances are good that your business is more personalized, more handcrafted, and more built with love. Big brands simply cannot provide detailed attention to each and every product. You are at an advantage to be able to give your customers higher quality when you do not have to put out substantial quantities. There is a hot market for locally made, handcrafted, artisan products and personalized service. Millennials and Z's, in particular, prefer small and local over national, big brands.
Customer Service
Here again, big brands cannot provide the kind of one on one, personalized customer service that you can. While they may have a team of customer service agents, those agents simply do not have the passion for the business that you have for yours. You understand that, without your customers, you have no business. You can connect with them personally, resolve any mistakes or issues to their satisfaction, and likely have a customer for life. Whether you sell products or services, your business will be far more likely to succeed if you treat all customers respectfully and offer to fix any problems, even when it is not your fault. It is wise to remember the customer is always right, even when they are not. 
The Leading Edge
You may not have the budget of the big guys, but you can still stay up to date with current technologies. Developing an app does not have to be really expensive. Find creative and cutting edge ways to connect with your potential customers. Take advantage of the buy local trend with advertising directed toward your community. We can help you with targeted, local ads. Make sure your social media pages are interesting and promote interaction, and if you do not already have a blog, get one going. Informative, engaging blogs that are not excessively salesy are awesome for driving traffic to your site. 
Social and Environmental Responsibility
Being mindful of your environmental impact and giving back to your communities are wonderful things to do in their own right. It does not have to cost a lot of money, and the benefits both personally for you and your staff, as well as for your business, are numerous. One of those benefits is increased sales. Millennials in particular are paying attention to which companies are making efforts to care for the earth, their employees, and other members of the community. If you are already doing these things, be sure you are making a big deal about it. Add a page to your website. If you have a community service project going, try to drum up some pr for it. You will get your name out to new potential customers and also let everyone know that you care. If you use recycled packaging, put a note on your checkout page. If you source your products from an organic or fair trade source, make sure you put that in your product descriptions. If you pay a living wage to your employees and/or provide them with unique benefits, talk about that. 73% of Millennials will even pay a higher price for a socially and environmentally sustainable product. If you have not started any of these projects, here are a few ideas for ecological and social responsibility. 
Looking up from a small business at the big dogs can be intimidating and even overwhelming. Just remind yourself that you are good at what you do and put in an effort that no big business can. Then make sure everyone else knows that too! For help with telecommunications or marketing, please reach out to us!