6 Ways to Declutter Your Digital Life for 2023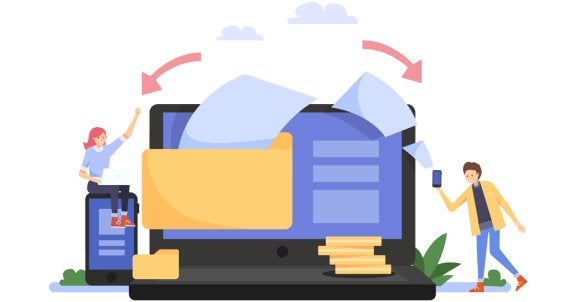 As the year reaches its end, the New Year resolution lists arrive. As you work to improve your everyday life, you can also organize and clean up your digital life. Cluttered email addresses and desktops, slow speeds from storage filled with photos and files, and too many notifications can be overwhelming and frustrating. Fortunately, there are ways to fix all of those issues and improve your online experience. Below are 6 ways you can declutter your digital space this season.
1. Hit The Unsubscribe Button
With signing up for emails during Cyber Monday or accepting emails for 15% off your purchase, people now most likely receive over 100 emails a day. One method to stop that is simply scrolling to the bottom of the email and unsubscribing. It isn't always easy to get through all of the emails to do that, so to help prevent email overload in the future, make sure to uncheck the receive news/offers buttons whenever you choose to give out your email.
Feel like you are receiving spam emails you did not sign up for? There are plenty of spam prevention tools out there to help you with that. One option is the Buckeye Brainiacs. As a team of technology experts, they can help you stop spam with their malware removal and PC optimization skills.
2. Clean Up Your Desktop And Downloads Folder
This tactic can be time-consuming, but it is 100% worth it, especially if you think your system is running slower than usual. Checking for duplicates is one of the easiest ways to start your cleaning process! If you know you downloaded a file twice, it is easy to sort and remove the copies. For prevention, we suggest keeping a "current" folder for each month, so once the month has passed, you can sift through the files and only keep what you need.
3. Do A Notification Check
If you have a lot of apps that bombard your lock screen with notifications, you can easily silence the notifications you never open or read. Go to your settings and click the app you want, and there you can set your notifications to off, summary, or immediate. Android users, you can set your notifications to silent or alerting.
4. Clear Out Your Photos
The build-up of family photos, screenshots from school or work, and cute pictures of your pets can quickly lead to the "low storage" notification. One solution is the app, GetSorted (on IOS and Android), which lets you swipe left or right on your photos to keep or delete them. It is a fun new method to help you clear up your storage.
If you are interested in cleaning up your photo folders without an app, you can choose to remove duplicates! iPhone users can find this option by going to the photos app and scrolling down to the utility tab. For Android users, in your files app there is a "clean" tab. Here you can find the duplicate files option.
5. Check Your Browser
Safari, Chrome, Firefox, and all browser options have the ability to clear your history and cookies. If you choose to do so, you may get logged out of some accounts, so be sure to save your passwords in a secure place.
If you are looking to organize, there is an option to bookmark relevant folders with icons, allowing you to save space and stay efficient.
6. Clean Up and Update
This last tip is very simple and applicable. Through double-checking and updating apps on your phone, computers, TVs, etc., you can help your systems run smoother and face fewer crashes!
Enjoy these tips? Listen to Kim and Rani on Living Local to go through them with their own perspective and learn more about their experience with digital decluttering. Find them on their podcast page, apple podcasts, spotify podcasts, google podcasts, or any of your normal podcast platforms!