10 of The Most Anticipated Video Games Set to Launch The Rest Of 2023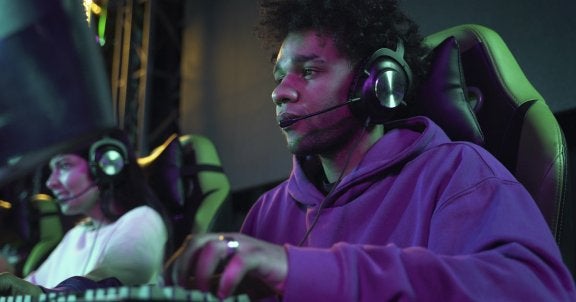 The year 2023 is shaping up to be an exciting year for the gaming industry, with several highly anticipated titles set to release. As gamers around the world are eagerly anticipating the release of new video games, Buckeye Broadband wants to list some of the favorites. Below, we will be discussing 10 of the biggest video games set to launch in the rest of 2023 in release date order. 
Consoles: PS4, PS5, Windows, Xbox One, Xbox Series X/S
Zombie fans get prepared- Dead Island's (2011) sequel is preparing for release. The game will feature a vibrant and stylish art style that contrasts its bloody gameplay. Get ready to fight back infested zombies with your immune group of humans. With a new mission and a great range of weapons, fans anticipate a wild fight to win back Los Angeles. 
Consoles: PS5, Windows, Xbox Series X/S
Fallen Order fans, be prepared to play Cal Kestis once again in the latest Star Wars release. In this action-packed game, players take on the role of the Jedi survivor who must navigate a dangerous galaxy in the aftermath of Order 66. With intense combat and thrilling new force abilities, players will need to rely on their skills and cunning to survive. Star Wars fans will not want to miss this. 
Consoles: Windows PC, Xbox Series X/S, Xbox One (Game Pass On Launch Day) 
In Redfall, players must survive in a world overrun by lab-made vampires who have blocked out the sun. With dynamic combat and an expansive open world, this game provides a bloody first-person shooter, vampire-hunting experience. Enter into the dark world alone or band together with up to three other plays to overthrow the vampire legion. Grab your stakes, and prepare to get into the heart of the Redfall action soon. 
Consoles: Nintendo Switch Exclusive 
After the groundbreaking release of Breath of the Wild (2017), the Legend of Zelda franchise is finally set to release Tears of the Kindom this May. The game will feature an open-world environment, allowing players to explore vast landscapes and new floating islands of Hyrule at their leisure. The game will also feature a new storyline and updated gameplay mechanics, including the highly desired ability to craft weapons. 
Consoles: PS4, PS5, PC, Xbox One, Xbox Series X/S 
In this unique game, players take on the role of the infamous Gollum, navigating the treacherous lava-filled world of Middle-earth. This stealth-based adventure game will take you on an immersive trip with stunning graphics. Meet popular Lord of the Ring characters like Gandalf and enjoy the striking gameplay. Get prepared for the ultimate Lord of the Rings experience. 
Consoles: PS4, PS5, Windows, Xbox Series X/S
The latest entry in the popular and timeless fighting game franchise, Street Fighter 6, offers exciting new gameplay mechanics and a roster of fan-favorite characters. With an updated flashy art style, stunning graphics, and intense battles, this game will please both newcomers and longtime fans of the series. The iconic game continues to evolve, so prepare for new additions which spice up the fighting. 
Consoles: PS4, PS5, PC, Xbox One, Xbox Series X/S
Prepare to enter a dark and dangerous world in Diablo IV. With new classes, abilities, and enemies, this action-based RPG is the ultimate dungeon-crawling experience. As players explore the world, they will uncover a sinister plot that threatens to destroy everything they hold dear. 
Consoles: PS5 Exclusive
The latest entry in the highly successful Final Fantasy franchise, Final Fantasy XVI, is almost here. Developed by Square Enix, the game promises to deliver an epic story and breathtaking visuals along with engaging combat mechanics. 
Consoles: PS5 Exclusive
Developed by Insomniac Games, Marvel's Spider-Man 2 is one of the most anticipated games set to release in 2023. The game will feature a fresh story and new villains for Peter Parker to face as he swings around New York City. Players can expect new gameplay mechanics and improved graphics, making this game a must-play for any Spider-Man fan. 
Consoles: Windows, Xbox Series X/S 
From the creators of Fallout and The Elder Scrolls comes Starfield, a new IP set in space. Developed by Bethesda Game Studios, the game is set to release in 2023 and promises to deliver a massive open-world experience set in a new and exciting universe. 
Power Your Gaming Experience 
From Marvel's Spider-Man 2 to Legend of Zelda, there is something for everyone to look forward to during 2023. With improved graphics, new gameplay mechanics, and engaging stories, these games will surely provide hours of entertainment for players worldwide.  
To ensure gamers have the best experience, Buckeye Broadband has the perfect Internet solution. Prevent lag with low latency through our Supreme Internet, built to withstand 4K streaming and online gaming at 600 Mbps download speed. Looking for even more power? Buckeye offers up to 10 Gigs of Fiber Internet in select areas! You can easily get the speed you need to enhance your gaming experience with these upcoming games with Buckeye Broadband.