Season Two of Living Local Toledo is Underway! More About this Fun and Informative Podcast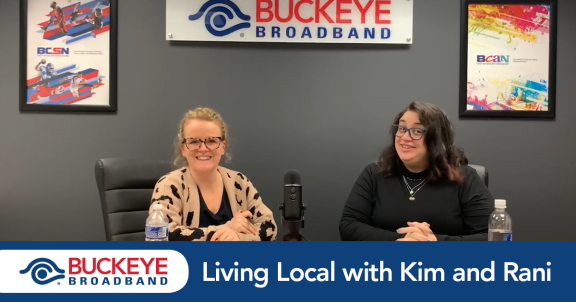 If you haven't already tuned into the Buckeye Broadband Living Local Toledo podcast, you don't know what you're missing. Heading into the second half of their second season, a pair of happy and knowledgeable hosts lead listeners and viewers on a journey about everything that's fun, entertaining, educational, charitable, and more that's available in this part of Toledo.  Now that we're heading into another summer, let's find out more about this broadcast.
When it comes to seasonal favorite films, check out one of the most popular episodes entitled, "What Scares You? Rani and Kim Talk Halloween Entertainment!" We take some of the guesswork out of what viewers might find frightening and compelling according to different categories. Like do ghosts freak you out or what about aliens and monsters?  Are you a fan of old-school psychological thrillers, or go for more modern special effects with blood, guts, and gore? Tune in to see if we've tagged your favorite classic horror flicks from the past or perhaps learn more about newer scary features coming to our screens.
More Info on These Local Gals
Speaking of learning more (and not to break an arm patting ourselves on the back), let's find out some additional information about two local gals and why they're uniquely qualified to host this venue. On most blog posts, you'll see a brief bio on Rani's background at the bottom of the page. Born and bred in Toledo, she's happily employed at Buckeye Broadband as the Social Media and Marketing guru. But what about her partner in crime during these podcasts ... what's the deal with Kim?
At the close of our recent articles of local content, you'll find some info about the girl by Rani's side who also loves living in this part of Ohio. Kim holds the official title of Manager of Community Engagement and Events at Buckeye Broadband. In other words, she's got her pulse on everything that's hot and happening, when giving and receiving as part of our local community.
Coming Home
Somewhat early in life, Kim moved away from Toledo in order to pursue other career opportunities under the big bright lights of New York. However, she eventually, moved back to her beloved hometown in Ohio. She brought back a passion for providing entertainment, event planning, creating memorable moments, participating in charities and all of these talents transferred very well here in this region. 
The Giving Local Toledo podcast at Buckeye Broadband is our company's, Kim and Rani's way of sharing and caring about our beloved community. It's also an avenue to offer education about today's modern tech and devices. 
What's Up and On the Air
Along with embracing local charities worthy of our support, upcoming events, entertainment, and technology, Kim and Rani also invite special guests to their show from time to time. Not only are these folks looking at what's happening in Toledo, but they're also checking out what's trending all over Erie County, Northwestern Ohio and Southeast Michigan. We're here to talk about the topics you care about and be a part of our local community.
Whenever you have questions, comments, or concerns, we're always here to offer a helping hand, voice, and listen with a friendly ear so contact us directly. There are also plenty more articles like this one and posts to explore on our blog. If you're so inclined, please feel free to suggest a topic, a point, or place of interest that you'd like for us to explore. Not only are we talking, but we're also listening and always looking forward to hearing from you.