Paying it Forward and Getting Paid Back With a Refer and Earn Program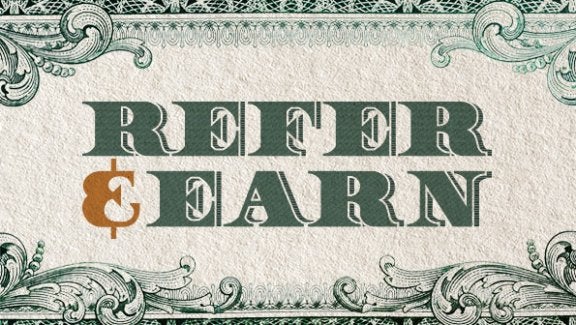 The concept of paying it forward was brought to the big screen in a movie by the same name back in the year 2000 starring Haley Joel Osment as a little boy named Trevor hoping to make a big difference in the world. When his social studies teacher (played by Kevin Spacey) gives students an assignment of putting in place a plan to make the planet a better place, Trevor dreams up a scheme. Instead of paying back a favor, he devises a plan of repaying good deeds by paying it forward in hopes of keeping the chain of kindness moving along. 
The film was based on the book written by Catherine Ryan Hyde in 1999 which helped to spawn the non-profit Pay It Forward Foundation and charity. However, the movie and book weren't the first ones to mention this way to keep a good deed going when people consider:
In 1980, the phrase "pay it forward" showed up in a special edition Marvel comic book that traced the path of a $5 bill given to someone down on their luck in a roundabout journey returning it to the same person by superheroes Spider-Man and The Incredible Hulk.
Lily Hardy Hammond wrote about the idea in her novel In the Garden of Delight published in 1916 saying in part, "You don't pay love back, you pay it forward." 
In an essay entitled Compensation written by Ralph Waldo Emerson in 1841, he wrote about a similar concept saying, "The benefit we receive must be rendered again, line for line, deed for deed, cent for cent, to somebody." 
Benjamin Franklin wrote a letter to a friend in April 1784, telling him, "When you meet with another honest man in similar distress, you must pay me by lending this sum to him; enjoining him to discharge the debt by a like operation... I hope it may thus go through many hands before it meets with a knave that will stop its progress."
Not to be a knave, aka a tricky or deceitful fellow by definition, Buckeye Broadband is extending a Refer and Earn program to pay back consumers for their kindness. When one of our customers gives a referral about any or all of our services (internet, cable television, or phone), to someone and that person signs up for said service(s), the person giving that recommendation will receive a $100 credit towards their bill. 
In true paying it forward fashion, the new customer will also receive a $50 credit on their account. It's easy to take advantage of this offer by filling out a quick online form with your information and that of your friend, call a special number tied to the program (419) 724-9856 to schedule the installation, sit back and wait for your rewards. Repeat the process as many times as you like for you and your friends to take part in this rewarding program.
Paying it Forward and Giving Back
In closing, if you'd like to give back to your local community, check out some of the charities we support in our area for some ideas. Whether you volunteer or donate, paying it forward is a great way to get a warm and fuzzy feeling when helping those who are in need. If you have any questions about how to earn shopping credits and rewards or want to learn more about our refer and earn program, please contact us today. We'd be happy to help!
RESTRICTIONS & SMALL PRINT: The customer making the referral must be in good standing with Buckeye Broadband in order to participate. The person who signs up for service must install one or more of these options: Digital Cable TV, High-Speed Internet, and/or Home Phone service. After the person who was referred remains in good standing with Buckeye Broadband, the credit will appear on both accounts.