Habitat For Humanity and Project Playhouse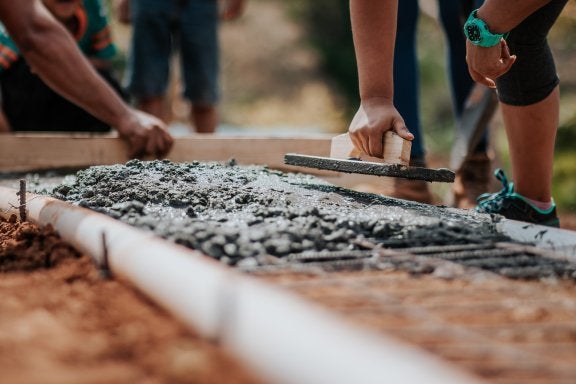 For those unaware, Habitat for Humanity is a global nonprofit housing organization that works in communities across all 50 states and 70 countries. Their mission is to help make a world where everyone has a decent place to live with an affordable mortgage. In partnership with families in need, Habitat for Humanity works alongside these future homeowners with volunteers to provide housing for those who are less fortunate. 
But there's more than building houses that become loving homes for these folks when Habitat becomes involved in their communities. Let's take a look at a pair of the many meaningful projects behind this charitable organization, their league of volunteers, and generous sponsors. 
Home Repair and Rehabilitation
Often homeowners who are struggling to make ends meet might not be able to afford necessary repairs to their houses which could lead to safety concerns. Perhaps they have an appliance that needs replacement making cooking or cleaning more difficult that could cause issues with health and welfare. Thanks to the Home Repair Ministry (HRM) program, eligible applicants could have these worries removed, repaired, replaced, or remedied in some way.
Like all Habitat for Humanities programs, home repair and rehabilitation relies on a partnership with providers, volunteers, and homeowners. Potential assisted repairs include roof replacement, gutter installation, ramps to aid with mobility, grab bars for the elderly or disabled, replacement of exterior doors, windows, repair of porches, railings, and more.
Eligibility and Requirements
Those who are approved for the HRM program pay for a portion of the repairs or replacements through a 0% interest payment plan dependent upon different conditions. The actual cost is based on the homeowner's income, ability to pay, the scope of the project, and how much the occupants participate in the work performed also known as sweat equity. Requirements for eligibility include homeowner's demonstrating these three main factors:
NEED — A reliable source of income at or below 80% of the AMI (Average Median Income) in the area
PAYMENT — A documented, steady source of income with debts less than $5,000 
PARTNERSHIP — Along with participating in sweat equity requirements, approved applicants must attend scheduled appointments, and be willing to partner in the process
While there are other parts of the application and approval process, the program is designed to assist those in need to provide their family with a safer and healthier home.
Project Playhouse Blitz Build
In 2019, the Maumee Valley Habitat for Humanity partnered with dozens of local organizations for the Project Playhouse Blitz Build to create and install 31 playhouses for the second year in a row at Fifth Third Field. Local sponsors teamed up to participate the constructing these playhouses to provide an imaginary world where children are inspired in their development, helps to provide leadership skills, expand their creativity, and much more. In playing house, this is often the first time when kids begin to think about what home means to them. 
According to one of the participating sponsors, "Project Playhouse plants the seeds of homeownership in young children."  Among the major sponsors, Owens Corning of Toledo backed two of these playhouses while Romanoff Electric provided over one hundred tools to support the construction of these mini-projects. Together with volunteers, the Walter E. Terhune Memorial Fund of KeyBank was the self-appointed provider of the Family Fun Area.
Here at Buckeye Broadband, we're proud to support the Maumee branch of Habitat for Humanity along with many other local charities. We were only too happy to participate in the 2019 Project Playhouse and are looking forward to the 2020 installation of new play areas for children of our community. You hear more on the NEW Podcast Episode with Nate Reid from Maumee Valley Habitat for Humanity at livinglocaltoledo.com - see you there!