Go Mud Hens! Want to Learn More About Toledo's Home Team?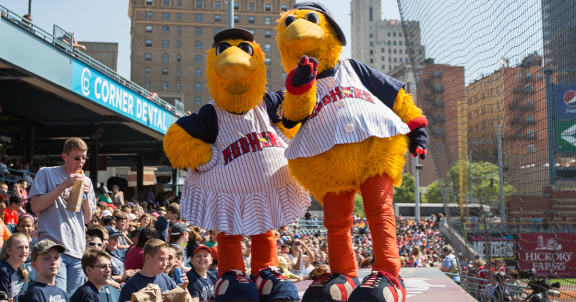 It almost goes without saying, but the last couple of years have been a major disappointment for sports fans everywhere. Consequences coming from the spread of a global pandemic with things like social distancing requirements shut down nearly every stadium in the world. It also halted competitive play since these coliseums were completely closed even if it was only on a temporary basis. 
Now that restrictions are loosening, worldwide sporting events are opening up again and fans are going wild to get back into their seats to cheer on their favorite teams. In this light, let's take a look at Toledo's most beloved local baseball team, the Mud Hens.
What is a Mud Hen?
Before we look at the history of the team itself, what exactly is a Mud Hen anyway? What's the deal with this mascot, and why is it so meaningful to this area and the team? Well, according to some sources that are well-versed in the bird world, this medium-sized feathered creature has close ties to Toledo. For example, it's also known as the American coot, which is a duck-like water bird that's common in the United States. Closely related to cranes, it has a high population rate found in the Ohio region especially since there are flocks of them living close to the team's stadium in nearby Bay View Park, a popular birdwatching destination. 
While it's actually a beautiful bird with distinctive traits and markings that differs from its other feathered relatives, the Mud Hen has significant flight status and power when compared to other waterfowl. In other words, often cranes have difficulty taking off and sustaining long-lasting flight patterns, the Mud Hen has substantial flying powers that are more long-lasting. Perhaps this was also something behind the naming of this team instead of a more imposing bird like an eagle or falcon. 
How About the History of Our Toledo Team?
Just like Toledo, the Mud Hens have a rich history in this part of Ohio. It dates back to the beginning of baseball itself back around 1839 when names like Abner Doubleday and the town of Cooperstown were being thrown around. While these names are widely disputed as fact according to sports historians and stories from the past, the roots of the Mud Hens are more clearly defined.
According to the Ohio Historical Society, the Toledo Mud Hens were first established and took the field in 1896, even though another team had been already been playing since 1883. The Toledo Mud Hens adopted its name and mascot in 1896 since there was a nearby swamp that was home to many of these birds not far from where they played. In 1902, the hens became official when they joined the American Association as a minor league team.
Is Today's Team the Same as the Original?
The short answer to this question is no since they found themselves near the bottom of the standings, failing to attract a sizable fan base, and moved from Toledo in 1955 at the end of the season. Ten years later in 1965, Toledo acquired another baseball team that also took the title of the Mud Hens in honor of the earlier Toledo baseball players. It was at this time they joined the minor International League and became a Triple-A ball club. Eventually, the Mud Hens would serve as a farm team for the Detroit Tigers. 
When Did They Gain National Notoriety?
Much like their predecessors, the Mud Hens struggled, but it was during the late 1970s when the team gained significant national notoriety. During one of the most beloved television series M*A*S*H*, the character of Corporal Maxwell Q. Klinger (as portrayed by Jamie Farr), longed for his hometown of Toledo and was a huge fan of the Mud Hens. Klinger commonly wore official Mud Hens gear that was generously and happily provided by then General Manager Gene Cook. Since M*A*S*H* was one of the most popular TV shows at the time, the appearance and demand for Toledo Mud Hens merchandise skyrocketed. 
Today, the official team mascots are known as Muddy and Muddona, male and female mud hens respectfully. Fans are often grabbing their favorite gear from The Swamp Shop, a souvenir store located near their home base at the Fifth Third Field. And finally, to learn more about the history of Toledo, current events, and the future of this exciting part of Northwestern Ohio, check out our blog, tune into the Living Local Toledo podcast and follow us on Facebook.