Get a Closer Look at How Trans-Siberian Orchestra Will Rock & Roll Toledo in 2022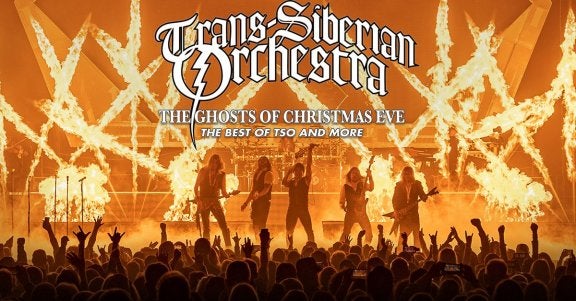 Almost everyone has Christmas traditions that are time-honored classics that we revisit year after year. Whether it's watching our favorite holiday movies, certain ways we trim the tree, decking the halls, or enjoying a grand feast, this is the time of year when we enjoy spending time with our beloved family members and friends.
Along with entertainment emanating from our screens, many of us relish a good old-fashioned night out on the town especially when it comes to live musical performances on stage. Since its inception many decades ago, the Trans-Siberian Orchestra (TSO) has rocked, rolled, and impressed audiences with brilliant, bright, beautiful, and memorable shows for those in attendance.
Get a Brief Look at the Origins of TSO
With over 10 million albums sold globally highlighting amazing musical performances around the world, these presentations continue to be a smashing success. It was all the brainchild of producer Paul O'Neill who wanted to introduce audiences to a combination of classical music, a rock opera storyline, combined with an amazing light show.
On the TSO website, Paul proclaims his "whole idea was to create a progressive rock band that would push the boundaries (of this genre) further than any group before, way, way further." Some of New York native O'Neill's major musical influences include Broadway musicals, the Motown movement, along with bands, singers, songwriters, and authors including:
Well-known classic rock groups like AC/DC and Aerosmith
Heavy metal favorites Ted Nugent, Def Leppard, and the Scorpions
Gentler influences came from Jim Croce and Harry Chapin
Writer Oscar Wilde and British poet Robert Graves
Back to the topic at hand, Paul began his career playing guitar for popular, touring productions with memorable presentations of Jesus Christ Superstar and Hair that enthralled audiences in the seventies. Later, he would go on to work with Leber-Krebs, Inc, a major Manhattan management company that represented some of the big names mentioned previously. The eighties found O'Neill becoming a concert promoter overseas mostly in Japan before returning to the United States to begin writing and producing full-time. 
Get Familiar With the Current 2022 Winter Tour
Fans of classic holiday tales like Charles Dicken's A Christmas Carol along with the Trans-Siberian Orchestra itself are bound to delight in the 2022 winter tour. Coming for a pair of performances in Toledo at the Huntington Center on December 2nd, this year's theme is Ghosts of Christmas Past. With possible (or perhaps obvious) nods to Dicken's storyline or many different movies resulting from his fictional tale, current events will also include some of the best-of-the-best of TSO's performances and presentations from the past.
Get a Seat @ This Sensational Show
Since the annual TSO tour is so very popular, seats for this sensational show often sell out quickly so you might want to wrap up spots before the date arrives. You'll have better luck finding a matinee ticket this week or a resale for the main event. Ticketmaster is the primary source for availability to attend the two performances on December 2, 2022, at the Huntington Center as mentioned previously. The matinee begins at 3:00 p.m. with the evening event unfolding later at 7:30 p.m. Click on the earlier posted times to check out the seats, purchase tickets, and for more information. 
Get Comfortable This Christmas
If you'd rather stay in the comfort of your own home and still enjoy spectacular sights and sounds from TSO, be sure to visit their website. Along with the possibility of purchasing some of their products like CDs (or even vinyl), wearables, and accessories, be sure to check them out online. For example, on their "origin page," readers are able to learn even more about the beginnings and eventual success of the Trans-Siberian Orchestra along with the written content about their tales and inspirations from the past. 
And finally, from everyone here at Buckeye Broadband, here's wishing you the brightest and best holiday season. We're always looking forward to hearing from you at one of our many locations. Whenever you have a question, comment, or concern, we'll always be here for you in 2022 and beyond so we're welcoming the opportunity to continue serving you in the New Year. CHEERS!