Freeform's 31 Nights of Halloween: A Spooktacular Movie Extravaganza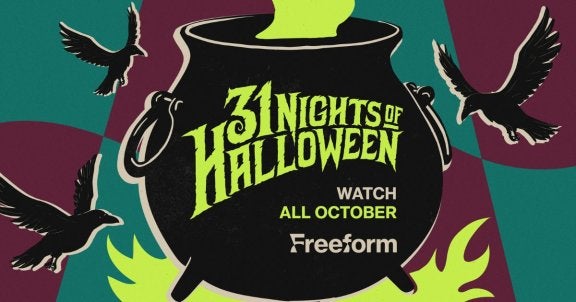 It's time for one of the most beloved traditions of the season: Freeform's 31 Nights of Halloween. This annual event is nothing short of a cinematic treat for Halloween enthusiasts, offering a month-long marathon of monster-filled and supernatural movies to get you into the spooky spirit. In this blog, we'll delve into six popular films featured in this year's schedule. Let's dive into the Halloween magic, ensuring you won't miss any of these spooktacular films.
Hocus Pocus: A Witchy Classic Returns
No Halloween movie lineup would be complete without the iconic "Hocus Pocus." Released in 1993, this bewitching comedy tells the tale of the Sanderson sisters, three witches who return from the dead to wreak havoc on Salem, Massachusetts. It's a hilarious, spooky, and altogether charming film that has become a Halloween film staple. With Bette Midler, Sarah Jessica Parker, and Kathy Najimy delivering unforgettable performances, "Hocus Pocus" continues to enchant audiences of all ages, making it a must-watch.
Also, although not in Freeform's 31 nights of Halloween, we also recommend Hocus Pocus II for those in a spooky movie mood.
Shrek: Scared Shrekless and Shrek Forever After - DreamWorks Delights
For families looking for a non-scary option, DreamWorks has them covered with "Shrek: Scared Shrekless" and "Shrek Forever After." These animated classics bring humor and heart to the Halloween season.
"Scared Shrekless" is a delightful collection of short stories where Shrek and his friends find themselves in spooky situations, perfect for the whole family. Meanwhile, "Shrek Forever After" explores a twisted version of Far Far Away, making it a great choice for those who want a little less fright and a lot more fun during the holiday.
The Addams Family: A Creepy and Kooky Classic
Charles Addams' classic characters come to life in the 1991 film "The Addams Family." This film introduces us to the horror-fying household of Gomez, Morticia, Uncle Fester, and the rest of the creepy clan. Followed by the equally entertaining sequel, "Addams Family Values," this double feature is the perfect way to indulge in some spooky laughs and celebrate the Halloween season with a darkly comedic twist.
Twilight Saga: Sink Your Teeth into the Entire Saga
If you're in the mood for a different kind of supernatural experience, Freeform's 31 Nights of Halloween also offers the complete "Twilight" saga. Dive into the world of vampires, werewolves, and forbidden love as you follow Bella Swan's journey through a series of gripping adventures. Whether you're Team Edward or Team Jacob, this captivating saga will keep you on the edge of your seat.
Halloweentown: A Magical Tradition
No Halloween celebration would be complete without a visit to "Halloweentown." This beloved Disney Channel Original Movie takes us to a magical realm where Halloween never ends. Follow Marnie Piper and her siblings as they discover their witchy heritage and embark on enchanting adventures in "Halloweentown" and its sequels, "Halloweentown II: Kalabar's Revenge" and "Halloweentown High." It's a charming series that captures the spirit of Halloween with a dash of family-friendly magic.
Monsters Inc and Monsters University: Not-So-Scary Monsters
Rounding out our 31 Nights of Halloween lineup is a visit to Monstropolis with "Monsters Inc" and "Monsters University." These heartwarming Pixar films offer a peek behind the closet doors, revealing a world of not-so-scary monsters. Join Mike Wazowski, Sulley, and their friends on their charming adventures filled with laughter, friendship, and just a hint of Halloween flair.
Endless Entertainment With Buckeye Broadband
In conclusion, Freeform's 31 Nights of Halloween is the ultimate way to celebrate the year's spookiest season. With a diverse array of films, from the bewitching "Hocus Pocus" to the family-friendly DreamWorks delights there's something for everyone to enjoy.
And with Buckeye Broadband's expert guidance on entertainment as a Cable TV company with streaming capabilities, you can trust that you won't miss a moment of the Halloween magic. So grab your popcorn, turn off the lights, and get ready for a month of spine-tingling, heartwarming, and downright entertaining films. Happy October!