Easter Fun and Festive Events in and Around Toledo, Ohio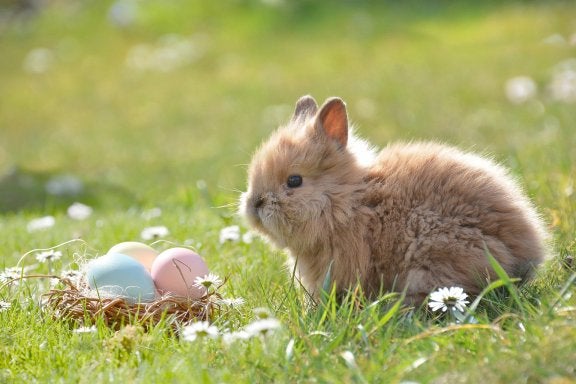 When Spring is in the air, this is often the time of year when many of us enjoy celebrating Easter with our family and friends. Along with acknowledging the namesake bunny, hunting for eggs is also a popular pastime when embracing this beloved holiday. It's said this colorful fictional character and time-honored tradition of seeking eggs dates back to the 1700s when German immigrants began arriving in neighboring Pennsylvania. According to some historical sources, the arrival of the European Easter Bunny in America was synonymous with an egg-laying hare with children creating nests as a place for the rabbit to lay its eggs. 
The legend and custom continued to spread across the United States. The fabled bunny would not only deliver eggs on Easter but also chocolate, along with other types of candy and gifts with the nests eventually being replaced by baskets. Luckily for those currently living in the Toledo region and other parts of Ohio, there's plenty of happy and hopping events to consider attending. Here are some of our favorite happenings in this area for locals to explore and enjoy:
Breakfast with the Bunny at the Toledo Zoo and Aquarium
FAST FACTS: Saturday, April 3rd and Sunday, April 4th from 9:00 a.m. to 11:00 a.m. with complimentary parking available at the nearby Anthony Way Trail lot. Prices vary for zoo members and non-members with free admittance for children aged two and under.
The Toledo Zoo and Aquarium proudly hosts the annual Breakfast with the Bunny daytime soirée with a fun celebration that's perfect for all ages. The kiddies are encouraged to participate in hunting and gathering up to ten Easter eggs per guest from 9:00 to 9:30 a.m. After working up an appetite, it's time for a delicious and extensive Easter buffet featuring:
French toast sticks and waffles, with syrup and butter
Western omelets and scrambled eggs
Home-style fried potatoes 
Bacon and sausage links
Bagels with cream cheese and jelly
Bananas and grape clusters
Beverages choices include regular and chocolate milk, apple and orange juice, regular and decaffeinated coffee, and ice water. 
Annual Easter Egg and Family Fun Day
FAST FACTS: Saturday, April 3rd from noon to 4:00 p.m. at a cost of $5.00 per person on a first-come, first-served basis. 
Every year, the Duke Farm in nearby Temperance, Michigan celebrates Easter at their farm with a petting zoo and riding center. Their Annual Easter Egg and Family Fun Day event includes an indoor Easter Egg Hunt, visiting with the Easter Bunny, family photos, plenty of food, Clydesdale, and pony rides (weather permitting), and more. Be sure to stop by and visit with all the animals at the farm's petting zoo to see and interact with real, live critters. 
Oak Harbor Easter Egg Hunt
FAST FACTS: Starting at 2:00 p.m. on Saturday, March 27th in the Adolphus Kraemer Community Park at the Log Cabin across the street from the town's Post Office, and it's free to attend.
The Oak Harbor Chamber of Commerce in their namesake city in Ohio also hosts an Easter Egg Hunt for kids twelve and younger. Although it's a little over a week before the actual holiday, this annual event draws kids, family, and friends to watch children scramble to find hidden eggs in the park's Log Cabin. After the eggs are discovered and uncovered, the fun moves to a hunt for candy and treats in the downtown district. Other local sponsors include:
Croghan Colonial Bank
Magruder Hospital
Village of Oak Harbor
Additional services and support as provided by the Boy Scouts of Troop #316
And finally, here's hoping you and yours have an excellent Easter no matter what you're doing or where you're going. For more news and information about events in our area, be sure to visit the Buckeye Broadband Living Local podcast. Join us to uncover everything from supporting local charities to combating Spring fever, and more.