Data and Details About Downloading the New myBuckeye App Today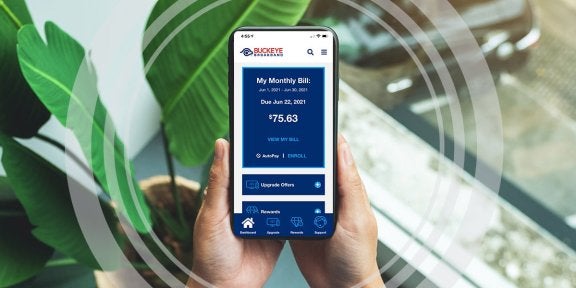 Remember hearing the expression, "there's an app for that?" While this was once considered a popular catchphrase from what seems like a hundred years ago, apps are still where it's at and what's happening. Today's online downloadable applications are an important and valuable addition to our smartphones, other mobile devices, and are available on multiple screens. As a matter of fact, the numbers are pretty astounding when you consider: 
In 2020, users downloaded somewhere around 218 billion apps
During the same year, consumers had an average of 40 apps downloaded on their device(s) 
In the first part of 2021, there were nearly 3.5 million apps available on Google's Play Store
These figures reflect a huge increase of applications that are being used currently compared to numbers from just a couple of years ago. Some people say the tremendous surge in app downloads recently may be at least partly due to the pandemic. Given this information, with millions of them to choose from, why should you download the new myBuckeye app? What makes this particular one valuable to consumers? We're glad you asked, so here are some answers to potential questions you may have.
What Are Some Available Services?
Along with many other free popular apps, the Buckeye Broadband application offers a variety of different services available to its subscribers at no charge. For example, users of the myBuckeye app are able to access their account(s) from almost any mobile or stationary device to deliver information about viewing and managing monthly charges and balances online.
There are other options worthy of consideration including viewing channel guides. This means when you're looking for viewing choices available to you from almost everywhere and nearly any time whenever there's access to the internet, the myBuckeye app has your back. Other services include the ability to:
Find the nearest Buckeye Broadband location near you
Search for support options with internet chat, access to online articles, videos, and more
View equipment status and reset your router
Can I Access my Buckeye Broadband Rewards Account?
Available separately and as an add-on browser toolbar, users of the myBuckeye App are able to access this valuable program, check their balance, make purchases, and more. For those unaware, the Buckeye Broadband Rewards option allows users to shop at over 4,000 of their favorite venues (with more being added monthly) and earn credits towards their Buckeye Broadband bill. Savings are limitless since the more you spend, the more you save ... it's that simple. 
Will it Work on Multiple Devices?
The short answer to this inquiry is yes! In some cases, some apps will only operate on either an Apple or Android platform. However, the myBuckeye application works on both of these platforms. Buckeye Broadband consumers also have the ability to download this app to their smartphone, tablet, desktop, and other mobile or stationary devices for easy access on many arenas. So you'll be able to quickly log in and get in touch with what you're looking for from almost any device.
Where Do I Sign Up?
It's easy! Hop over to either the Apple store or get access to our Android sign-up page here to get started. If you don't already have an online account with us, just enter a username and password and after answering a few quick questions, you're good to go. Remember, we never sell, trade, or otherwise share your personal information. It's just not the way we roll, and we respect your privacy. 
Whenever you have questions, we've got answers. This includes everything from using and understanding today's modern technology to the many entertainment options available to you as a valued Buckeye Broadband customer. Please feel free to reach out to us right now and contact us at one of our many locations. We're always looking forward to hearing from you.