Check Out Unique Food and Festive Feasting Days in November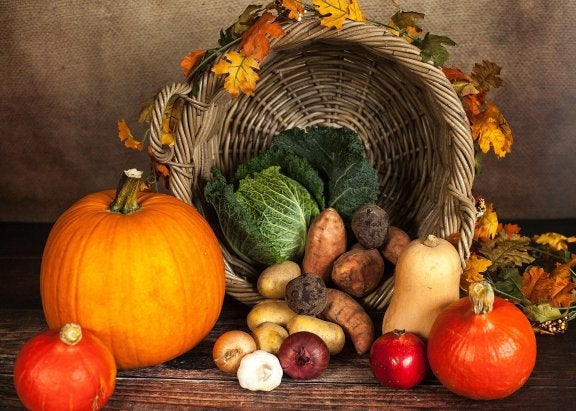 One of the best parts about the "ber" months (September through December), is all fabulous foods, favorite homemade dishes, festive meals, sweets, and treats we always enjoy when the year begins coming to a close. During the month of November, most of us look forward to a traditional turkey dinner with all the trimmings. But there are also those who imbibe on a platter full of ham and those fixings associated with this meaty favorite as an alternative to a customary turkey feast.
Here in Ohio, we get plenty of fresh seafood from our nearby waterways. Consider succulent Cioppino that's often prepared on the West Coast with fresh seafood coming straight out of the Pacific Ocean and San Francisco Bay Area. There's also traditional Gumbo made down South in areas like New Orleans.  What about lobster rolls which is another option from places like Maine. In this light, we thought it might be fun to recognize some lesser-known National Days and set aside for our favorite foods and feasts.
A Delicious and Devilish Date
On the second of November, it's National Deviled Egg Day, which is appropriate since this delicious appetizer is often served on many festive and family-favorite occasions. From traditional time-honored classic recipes to newer twists on this tasty dish, think about searching for more current versions of this poultry-prepared product. You may also have noticed some of these unusual mixtures and creative creations being shared on social media sites. 
When Sandwiches Rule
The next day on the third, sandwiches rule on the date set aside for creating different ingredients placed between two (or more) slices of bread or other menu items. As many of us are already aware, it was the advent of John Montagu, the 4th Earl of Sandwich who requested this combination circa 1762. According to legend, Mr. Montagu was involved in a very heated game of cards and didn't want to lose his seat at the table with a more traditional meal being served with utensils. 
A Pair of Eights
On the 8th day of November, as highlighted previously, it's time for Cioppino on this date set aside for preparing and devouring this delicious seafood stew. This date is also a time when bartenders are mixing up Harvey Wallbangers, a classic concoction made with vodka, orange juice, and Galliano. Apparently, it was invented by a man named Donato "Duke" Antone at his  Blackwatch bar in Los Angeles in the 1970s. The story behind the beverage relates to the Duke naming his signature cocktail after a local surfer named Tom Harvey who had a reputation for running into walls when he was intoxicated. 
Delicious Desserts on the 10th and 11th
Get your sweet tooth on the 10th and 11th of November when it's time to celebrate National Vanilla Cupcake and Sundae Days (respectively). No matter what day of the week these dates fall, it's always a good day to enjoy a miniature-wrapped cake topped with (or without) frosting and scream for some ice cream. Speaking of toppings, there are no rules for how to complete these delicious treats with more savory or sweet frosting.
A Terrific Trio on the 12th
On the twelfth day of November, our true loves come to thee, a trio of delicious favorite foods. Instead of singing along with the classic Christmas carol, consider this trio of National foods that are celebrated on this day:
Chicken Soup for the Soul — The majority of us enjoy a bowl of this warm and comforting soup when we were feeling under the weather. And whether it was homemade, came in a can, cooked from a packet, prepared at a restaurant, or otherwise, it still soothed our soul and made us feel better
French Dip Day — A popular sandwich that's made in a variety of different ways from just roast beef on a bread roll along with Au Jus dipping sauce. There's also or other beloved toppings available like grilled onions and cheese making it a classic carnivore favorite 
Pizza with the Works — For some reason, this selection is meant for everything including the kitchen sink but sans anchovies. However, if you want these little fish on top of your pie — it's not like you're breaking some kind of law
Stay tuned for more articles like this one since we'll be posting another menu for more fabulous food and feasting days happening later in the month of November. Don't forget to follow the Buckeye Broadband blog and tune into our Living Local podcast. Both of these platforms highlight seasonal activities happening in the area along with updates on the latest news about trending technology and more. And finally, Happy Thanksgiving to you and yours from everyone here at BB.