Charity Spotlight on the Toledo Museum of Art and Much More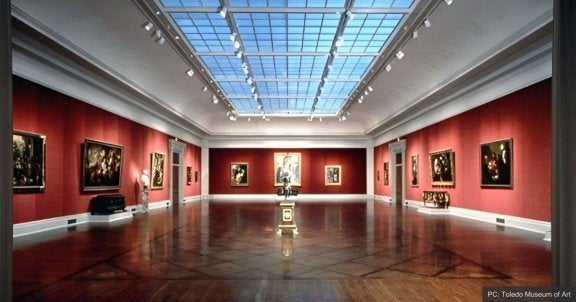 The arts are considered to be one of the oldest fields of knowledge available to humankind. Answers to the question "what is art?" are almost as limitless as the many mediums that artists use and multiple types of masterpieces they create. From paintings and drawings to sculpture and pottery, art is all around us and the majority of the finest pieces are safely stored in museums.
Since its inception in 1901, the Toledo Museum of Art (TMA) has earned a global reputation for the quality of its collection, innovative educational programs, and an architecturally significant campus. Thanks to its benevolent founders and the continued support of members, donations from the public, and corporations, TMA remains a non-profit institution open to the public at no charge to visitors.
Fast Facts About TMA
Again, admission to the TMA is free and the venue is closed on Mondays, Tuesdays, and major holidays. The museum is open Wednesdays and Thursdays from 11:00 a.m. to 5:00 p.m., Fridays and Saturdays from 11:00 a.m. to 8:00 p.m., and Sundays from 11:00 a.m. until 5:00 p.m. TMA is located at 2445 Monroe Street at Scottwood Avenue just west of the downtown business district.
Purpose and Values
As stated previously, art is a field of knowledge and the purpose of the TMA is through art education by teaching people to learn by seeing and engaging with their collections. Under an umbrella of art history, TMA engages people with visual cultures, discovering different methods of seeing including understanding the formal language of art including iconology, ideology, semiotics, and hermeneutics.
As a community-orientated non-profit organization, TMA recognizes specific values they believe are essential for collaboration and creativity. As individuals, members, and administrators of TMA, they pledge their relationships with one another and with their audiences are governed by:
Diversity,
Community,
Trust,
Innovation
Practical Artistic Partnerships
From time to time, TMA partners with TSO (Toledo Symphony Orchestra) to bring the very best of the arts and music together in one platform. According to Scott Bobert, TMA's previous Manager of Programs and Audience Engagement, "We hope to create a vibrant portrait of Toledo in music and art that captures the rich cultural history of this city while also looking forward to what lies ahead."
In another successful partnership, in January 2019, the Toledo Ballet and Toledo Symphony merged together to form the Toledo Alliance for the Performing Arts (TAPA). This non-profit organization is dedicated to providing superior live music and dance performances with other educational venues for the Ohio area. This exciting partnership promises to create new and innovative programming by integrating the arts through shared educational missions.
A Classic Composer, Educator, and Performer
As part of their educational endeavors, TMA and TSO have been proud to collaborate with DBR (Daniel Bernard Roumain), a world-renowned Haitian composer, violinist, and educator. For those unaware, DBR is also an activist and social entrepreneur who has worked with artists from Philip Glass to Lady Gaga, and has appeared on NPR, American Idol, and ESPN.
In a career spanning more than two decades, DBR has also collaborated with the Sydney Opera House and has earned commissions from artists and institutions from around the world. As an educator, Daniel is dedicated to musical education.
Support Local with Buckeye Broadband
We're proud to support these worthy causes along with other charities and non-profits local to the greater Toledo region. At Buckeye Broadband, we understand how important it is to give back locally to our community. If you'd like more information on how you can help, please contact us today. We're happy to hear from you and look forward to you reaching out to us.