Before the Big Game: Check Out These Fun Facts and Stats About The Iconic Vince Lombardi Superbowl Trophy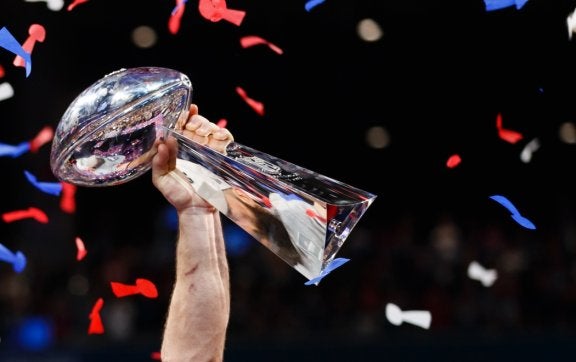 After the New Year has arrived, and there are no more festive leftovers to enjoy, this is the time when football fans are awaiting the big game. For players, coaches, and other staff members, along with gaining a coveted Super Bowl Ring, the winning team also holds the distinction of getting more bling in the form of the Vince Lombardi trophy.
Unlike other awards of this nature, this isn't a trophy that's only held onto until the next season to be passed on for posterity to the next victor. Instead, this impressive statuette stays with the winning team, and it's a very impressive trophy, to say the least. Let's take a closer look at this namesake award and how it was conceived and initially designed.
Stats and Facts
True football (and other sports) fans closely follow statistics, learn fun facts, and trivia about their favorite players and teams along with general information... so why wouldn't they want to know more about this coveted prize? Straight from the source at the Pro Football Hall of Fame, here are some down-and-dirty digits and data about this prestigious prize:
It's said to be worth in excess of $10,000 and hand-crafted by Tiffany & Company jewelers annually
Was first presented at Super Bowl V and officially named after the late, great, Vince Lombardi
It stands at 20.75" and weighs in at 107.3 ounces or nearly seven pounds
In addition, the sterling silver pigskin that's on display atop the trophy is the same size as a regulation football used during games and is mounted in a kicking position. There's also an interesting story behind how this amazing award come to fruition.
Drafting the Original Trophy
In a book written by former NFL Executive Director Don Weiss entitled, "The Making of the Super Bowl" (with a picture of the trophy on the cover), the author described how the original award was drafted. It was way back in 1967 when Commissioner Pete Rozelle took on the task of finding a trophy for the first AFL-NFL Championship game. Commissioner Rozelle was completely committed to excellence when it came to crafting this award, so he reached out solely to famed Tiffany & Company fine jewelers.
The company's chief design officer, Oscar Riedener, a native of Switzerland, knew nothing about the sport and promptly went to the famed FAO Swartz toy store and purchased a football. He placed the foreign object on his kitchen table and the next morning proceeded to have breakfast. He grabbed a box of Cornflakes, poured the cereal into a bowl, and stared at the ball looking for inspiration.
The Designer Scores a Touchdown
After finishing his breakfast and emptying the box of cereal, he took a pair of scissors and transformed the cardboard into a trophy base where the football could be mounted. A few days later, he had lunch with Commissioner Rozelle and sketched his design concept on a cocktail napkin. Apparently, Oscar really liked the idea and image scoring a touchdown for the Swiss designer. The rest as they say is history, and the iconic Vince Lombardi Trophy has remained unchanged for over fifty years. 
Here at Buckeye Broadband, we're also huge football and sports fans. Be sure to follow us on Facebook for regular blasts about upcoming games, dates, and times. Whether it's a national championship playoff or local game, we've got your back when it comes to what's happening in the wonderful, wide world of sports. For more on the most trendy, fun, and popular places to unwind in our area, including the hottest topics with today's technology, be sure to stay tuned to our blog and check out our Living Local Toledo podcast for more news and information.