Back-To-School Internet Tips: The Ultimate Internet Speed Guide For College Students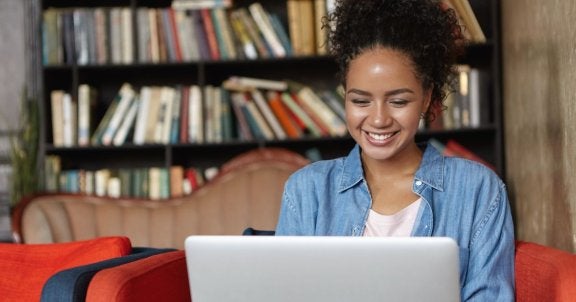 In today's digital age, an Internet connection is a crucial part of a college student's life. From attending virtual classes to socializing with friends, fast and reliable Internet is essential.
Avoid the dread of your work crashing before you save it, and (although we don't recommend this) the helplessness you feel while trying to turn in an assignment at 11:59 pm that isn't uploading fast enough by learning what Internet speed you need for your college experience.
Check below for recommended speeds for balancing classwork and social media, gaming and streaming, and how Internet works in dorms versus apartments
Balancing Internet for Classwork & Social Life
For college students, Faster browsing is necessary for attending virtual classes, submitting assignments online, scrolling on social media, and more. Slow Internet speeds can affect the quality of all these experiences through lag, blurriness, and crashes.
In order to balance all of these tasks, especially if you multitask, such as listening to music while doing classwork, we recommend getting more bandwidth. While scrolling on social media alone only needs up to 25 Mbps, having multiple devices connected at the same time will require more.
For students with basic Internet needs and multiple devices, we recommend investing in at least 150-250 Mbps to ensure a quality connection, especially if they have roommates they share Internet with. Oftentimes these speeds are the base-level or Essential speeds for companies and are the lowest cost.
Want the Best Speeds for Gaming?
Gaming is very popular in our technology-filled world, especially for college students. From PC games to consoles like Xbox and Playstation, downloading and actively streaming games can require a lot of Internet speed. In order to quicken the speed of updates and lower the amount of lag and latency, students can get more bandwidth.
Depending on how many people share your Internet with you in your college apartment, the speed you will need for having the best performance will vary. We recommend gamers check out our Supreme Internet speed, perfect for gaming with 600 Mbps download speed.
How Much Speed For Streaming TV?
Streaming TV shows and movies is a popular pastime for many college students, and services like Netflix, Amazon Prime Video, and Hulu have become essential for many. To stream Netflix in standard definition (SD), you need at least 3 Mbps download speed, for high definition (HD) you need at least 5 Mbps download speed, and for 4K Ultra HD quality, you need at least 25 Mbps download speed.
Therefore, having more Internet speed means you can watch your favorite shows and movies in better quality, such as 4K video. If you hope to only do school work and watch TV, we recommend 150-250 Mbps Internet speed. Our Essential Internet is perfect for preventing buffering at 250 Mbps.
Dorm vs. Apartment
The type of living situation can also affect the Internet needs of college students. In dorms, where multiple students share the same network, Internet speed can decrease significantly during peak hours. On the other hand, in apartments, students have more control over their Internet connection but may have to pay for their own Internet service.
For students in dorms that are not allowed to get their own Internet, we recommend using an Internet speed test when noticing your connection slowing down. Checking the speed may help you understand what times of day your connection will slow down, so you can work around it to get classwork completed.
Power Your College Career with Buckeye Broadband
Faster browsing and a reliable Internet connection are a necessity for college students. Buckeye Broadband offers high-speed Internet plans for college students and student Internet deals at affordable prices.
Our Internet plans range from 150 Mbps to 10 Gbps to fit the needs of different students. Internet for students is essential. Check out Buckeye Broadband's Internet offers and ensure that you have the speed you need for a successful college experience.