Amazing Low-Budget Movies That Cleaned Up at the Box Office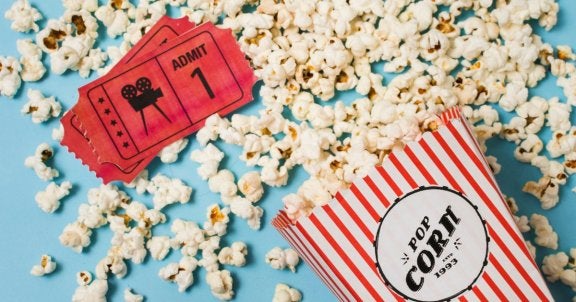 Given all of today's technology and the addition of costly CGI effects in many of our current movies, budgets are busting when it comes to making films nowadays. There are also growing salaries being demanded with the hottest celebrities. Yet still, blockbuster films are still grossing big dollars at the box office despite these rising costs. However, often we forget about movies that didn't cost that much to make but still blew away audiences with outstanding ticket sales and profits at theaters.
One of the first titles that might come to mind was the sleepy, creepy, paranormal, Blair Witch Project that cost mere pennies ($35,000) to produce compared to much higher Hollywood budgets that often come into millions of dollars in most cases. In this light, here are some other movies that were short on costs but high in profits and became huge fan favorites after they were released.
The Breakfast Club
Legendary director, cinematographer, and producer John Hughes hit another home run filming The Breakfast Club. Hughes managed to bring together another tiny twist on the brat pack coming from vastly different backgrounds that won the hearts of audiences in this eighties' favorite. Along with an excellent script and a low budget, most of the entire flick was filmed in just one location. Starring popular actors like Emilio Estevez, Molly Ringwald, Judd Nelson, Anthony Michael Hall, and Ally Sheedy, these creative casting choices helped to propel them further into stardom.
My Left Foot
This critically acclaimed film received multiple awards and nominations. However, on the other hand (or foot) this low-budget gem helped to raise awareness about the plight of the physically challenged. Actor Daniel Day-Lewis garnered a well-deserved Oscar for his compelling performance in his starring role as a man suffering from cerebral palsy who only had use of his left foot. Based on a true story about an impoverished Irishman named Christy Brown, this character faced his obstacles head-on, and with help of his family, friends, and caregivers overcame his challenges to become a successful author and artist in his own right with only one appendage.
Napoleon Dynamite
Being a geek or a nerd has become the new chic in terms of style and popularity in today's pop culture scene. Thanks to the overwhelming success of television series like The Big Bang Theory along with past favorite eighties' films like Revenge of The Nerds, we're looking differently at those that don't quite meet the status quo in terms of popularity or acceptance given their superior intelligence. Just like the aforementioned, cultural differences shouldn't play a part in our success. The title character of Napoleon Dynamite (Jon Gries) and his little Hispanic buddy Pedro (Efren Ramirez) discover politics in this low-budget flick that became a cult favorite.
Half Nelson
Often recognized as a well-known wrestling move, conversely the movie Half Nelson starring Ryan Gosling takes a look at the rising career of a school teacher looking for more than just a position as an educator. In Ryan's role as Dan, a young, talented teacher, there's another side to his place as an instructor at an institution for higher learning. A secret he holds being addicted to drugs leads to an accidental discovery by one of his female students. Filming only took 23 days and the plot quickly unfolded into a successful venture that was very profitable compared to its meager budget.
Mad Max
Another sleeper and considered a science fiction classic by some, this film came from the land down from practically nowhere. Starring a young, relatively unknown Mel Gibson, the movie seemed to take the world by storm. The first in a trio of sequels, Mad Max shared a futuristic view of a post-apocalyptic world where things have gone horribly wrong. After his wife and child are murdered by a vicious gang of bikers, this former police officer wanders the wasteland often seeking revenge.
Watch Your Favorites With Buckeye Broadband
As a Cable TV and Premium Channel provider, Buckeye Broadband has great information on popular films we all enjoy. When you're looking for more from yesterday and today's best and brightest in entertainment, nearby events, and charitable causes worthy of consideration, check out the Buckeye Blog. Visit weekly for new and entertaining topics to enjoy.