8 Black Friday Shopping Tips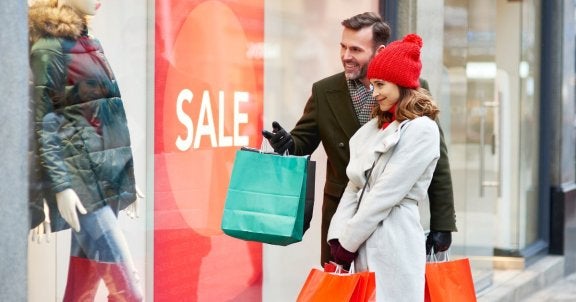 Now that the holidays are here, you're probably making out a list of everything you need to buy for your family and friends. If you're like most shoppers, there's nothing sweeter than grabbing a good deal. Are you ready for Black Friday on November 24th, 2023? Here are eight shopping tips on how to save money on Black Friday deals, along with how to make holiday shopping easier.
1. Study the Ads
Before heading out to the stores on Black Friday, do your homework by studying the ads. This includes both print and online ads, which typically come out the weekend before Thanksgiving.
2. List and Shop for "Must Have" Items First
Prioritize your list. This means listing your items by their order of importance. After arriving at a store, go directly to the department for the item you need instead of wasting time at other departments.
3. Check and Compare Costs
Always have your phone available when shopping so that you can quickly call a competing store to check to see if an item costs less at another retailer. One way to do this is using the Amazon app (Microsoft, Apple, Google).
4. Don't Bring Your Kids
It's wonderful to spend quality time with your kids, but holiday shopping is usually not the right time. If you're like most parents, your children are probably begging to come with you, but this isn't a good idea. When shopping for gifts, and especially on Black Friday, you'll need an abundance of stamina and patience. Furthermore, this is a good time to look for Christmas presents for your kids.
5. Shop with a Friend and Do Lunch
Besides helping you find what you need, having someone with you can be beneficial as friends can offer advice or stop you from making an unwise buying decision. After your shopping is done, you could enjoy lunch together.
6. Take Advantage of Loyalty Programs
Using loyalty programs is another way to save money. Consider that many retailers have loyalty programs offering promotions and sales to their members first that allow them to earn reward for the items they purchase.
7. Shop at Home During Pre-Dawn Hours
Why not avoid the Black Friday madness and get some needed sleep as you can shop online during pre-dawn hours. Consider that many retailers offer Black Friday web-only deals that begin as early as Thanksgiving Day. After ordering online, you simply pick up your time at a local store.
8. Switch to Online Shopping
Even better than ordering online and picking up your items at a local store is shopping online and having your items delivered. Since Cyber Monday is totally online, it's faster, besides easier. This way to shop continues to be more popular as many people travel to be with their families on Thanksgiving. Even if you stay at home, most likely, you're busy with family post-Thanksgiving get-togethers.
Tips for Shopping at Popular Brand Name Stores
Walmart—Look for available deals on the day that the ad drops. Take advantage of deals going live (Pre-Black Friday deals) before Black Friday, such as a week before Black Friday.
Target—This store offers 66 percent off each year on its WonderShop holiday décor. When you spend $50 on Black Friday, you'll receive a coupon for 20 percent off during the month of December.
Best Buy— The best time to get expensive technology is when its discounted. Almost every year, Best buy opens its doors to the public on Black Friday at at 8 a.m. What's more, there were many online deals before Thanksgiving. Furthermore, there are many online Black Friday deals.
Costco—If you're unable to find a price match, you can get "cash back". But this doesn't apply to items or offers that are from November 24 (the Sunday prior to Thanksgiving) and December 2 (the Monday following Thanksgiving).
Barnes & Noble—Black Friday deals on Barnes&Noble.com include those, such as free shipping on orders more than $35, besides much more.
Other Considerations and Warnings
Sign up for newsletters—After deciding on the specific stores to patronize, go to their websites to sign up for email newsletters. Just make sure you do so about three weeks prior to Black Friday since time is needed for generating emails.
Use social media—Take advantage of Facebook, Twitter feeds and Instagram posts of some of the top retailers as this is an ideal way to discover exclusive promotions and deals. Often, retailers offer their customers special discounts for Black Friday.
Determine if a deal is really good by tracking prices, leading up to Black Friday. Also, do this for Cyber Monday deals as you can generally find a week of online deals.
Have a "Plan B"—Because you're competing against a lot of other shoppers, chances are, you may not snag the item you need. So having a backup plan is always worthwhile.
Avoid impulse buying—One of the worst times of the year for impulsive buying is the holidays. That's why it's critical that you decide on a budget, regarding what you can and cannot afford to spend and stick to it.
Earn Bill Credits While Online Shopping with Buckeye
For the best deals on high-speed Internet, Cable TV, and Phone offers, you can't beat Buckeye Broadband Rewards. Buckeye Broadband Rewards is a great way to help you save money on your cable bill while doing your online shopping.