The 5 Best Sci-Fi Series of All Time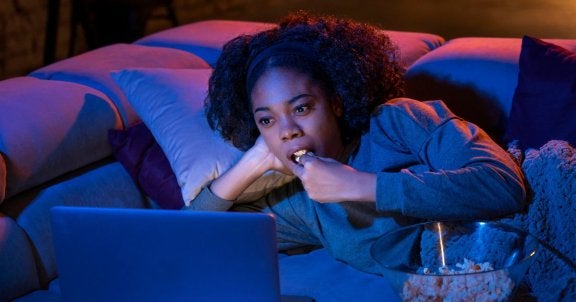 It's 2023, and we still don't have flying cars. But the world does have a ton of great, sci-fi shows. Here's a list of the 5 best sci-fi shows that you can watch through Buckeye Broadband's services or other services.
Star Trek
Available on Paramount+, Star Trek is perhaps the most famous and influential sci-fi show of all time. While this list won't pick favorites, Star Trek is definitely the best sci-fi show for many people. These streaming services host tons of Star Trek content, which includes The Original Series, starring William Shatner and Leonard Nimoy, all the way to Star Trek: Enterprise, which stars Scott Bakula and Jolene Blalock.
Watchmen
This critically acclaimed show has one season available. Like another popular series called Westworld, Watchmen is a sci-fi show with a complicated universe that, despite being very different from our own, has many similarities as well.
If you are looking for a quick show to watch, Watchmen is perfect as its creator intended it to be a limited series. Despite its short length, due to the great reception it's had, Watchmen has already cemented itself as one of the best sci-fi shows of all time.
Stargate
Another relatively old sci-fi franchise, Stargate doesn't have as many fans as Star Trek has, but it's still considered by many to be one of the best sci-fi shows of all time. All three Stargate shows, which includes Stargate SG-1, Stargate Atlantis and Stargate Universe, are available on on Amazon Prime Video.
Stargate SG-1 is considered by many fans to be the best, as it was both the first and the longest running Stargate show. In general all three shows are about exploration, but unlike Star Trek, where the crew explores the galaxy with a spaceship, the men and women in Stargate explore the universe through portals. Additionally, if you're a fan of Jason Momoa, then you'll love him in Stargate Atlantis.
The Handmaid's Tale
While not a traditional sci-fi show with spaceships and lasers, The Handmaid's Tale is technically a sci-fi show since it takes place in a dystopian world in the future where women are forced into servitude.
However, there is some debate about this, but regardless, The Handmaid's Tale is still a great, critically acclaimed show that's available on Hulu. Additionally, it's a Hulu original, which means that unlike some other shows, there's no chance that The Handmaid's Tale will ever leave Hulu.
The OA
Like The Handmaid's Tale, The OA is not a traditional sci-fi show, but it's undoubtedly sci-fi nonetheless. Once again, there are no spaceships and lasers in The OA. That said, just like the other shows on this list, The OA is a wild ride about life, death, and the friends and family we make along the way. The OA is a Netflix original too, which means that it will always be available on Netflix.
How to Watch these Great Sci-Fi Shows
Buckeye Broadband is here to help you watch all of these sci-fi shows with ease through the fastest speeds to power your streaming needs. With up to 10 Gigs available in Fiber Internet, you can stream at the best quality (4K) without lag or buffering.
Interested in learning more about our streaming services and what we offer? Check out our Streaming Guide on your myBuckeye account.