18+ Epic and Iconic Movies to Binge, Watch and Re-Watch on Epix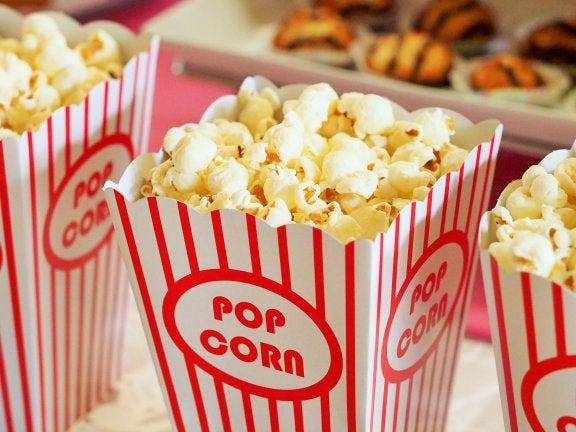 Almost everyone has heard of HBO and Cinemax available as premium channels from your local provider, but few are aware of Epix as an affordable option. At just $5.99 a month with over 2,100 movies to choose from airing on four different cable channels, there's something for everyone on this "epic" selection. Take a look at some of the newer and older, iconic time-honored classics available to watch and re-watch on Epix.
Captain America: The First Avenger
Whether you're new to the Marvel series or watching these fantasy flicks again, according to techno-geeks, if you want to watch them in chronological order rather than by release date, Captain America: The First Avenger is where to begin the journey. Set during World War II, Steve Rogers (Chris Evans) want's to join America's armed forces but is rejected because of his small stature. After an experimental program transforms him into a supersoldier, Captain America leads the fight against HYDRA, a Nazi-backed band of bad guys.
The James Bond Collection
Check out some of most of the most beloved and classic portrayals of Bond, James Bond beginning with Sean Connery in Dr. No, Diamonds Are Forever, From Russia With Love, Goldfinger, Thunderball, and You Only Live Twice. Fans of Ian Fleming's spy series can also check out:
Roger Moore's run of memorable movies including Live and Let Die, The Man With The Golden Gun, The Spy Who Loved Me, Moonraker, For Your Eyes Only, Octopussy, and A View To A Kill
Timothy Dalton's role in The Living Daylights and License To Kill
When Pierce Brosnan played agent 007 in Goldeneye, Tomorrow Never Dies, The World Is Not Enough, and Die Another Day
Bumblebee
Set in 1987, an Autobot named Bumblebee seeks refuge in a small California coastal town near San Francisco in this often overlooked Transformer movie. On the brink of turning eighteen, Charlie (Hailee Steinfeld) stumbles across a battle-scarred and broken-down Volkswagen Beetle and quickly learns this is no ordinary yellow car. 
Hustle
The unlikely pairing of a glamorous, seductive, meticulous British woman (Anne Hathaway) with a talent for draining gullible gentlemen out of their cash with a cunning and fun-loving Australian gal (Rebel Wilson) who is also a swindler works out well for the two grifters. Despite their completely different lifestyles, methods, and personalities, the pair work together to go after the ultimate score in an elaborate Hustle.
Instant Family
Based on a true story, when Pete (Mark Wahlberg) and Ellie (Rose Byrne) Wagner decide to start a family together, they stumble across the foster care system in hopes of taking in one small child. After meeting three siblings including a rebellious 15-year-old teenage girl, her accident-prone little brother, and a spunky younger sister, the Wagners go from a couple to an Instant Family almost overnight including all the struggles of parenthood and becoming a family given only a moment's notice.
Overboard
This re-boot of the eighties classic starring the long-time Hollywood couple Goldie Hawn and Kurt Russell switches the genders of the main characters in the movie. This time, Leonardo (Eugenio Derbez) is a spoiled, lazy, selfish, and rude playboy and Kate (Anna Faris) is a working-class single mother in a film with a plotline similar to the original. After Leonardo fires Kate without paying her and destroying her equipment in the process, he falls Overboard and later washes up with amnesia. Kate convinces Leonardo they're married in seeking monetary revenge and she wonders how long she can continue the charade with her fake husband before he regains his memory.
Rocketman
Talented British actor and singer Taron Egerton gives a memorable, moving performance, and portrayal of Elton John in the 2019 rock bio recounting the life of this world-renown, flamboyant, songwriter, and pianist. Through a series of flashbacks, Rocketman follows the journey of a shy little lad growing up in England through his grizzly, often heart-wrenching, drug and alcohol-induced journey into becoming a raging rock-and-roll superstar with an epic soundtrack and toe taping dance sequences.
Wonder
Wonder stars Owen Wilson and Julia Roberts as parents of young August "Auggie" Pullman played by Jacob Tremblay who was born with facial disfigurements preventing him from going to a mainstream school. Based on the #1 New York Times bestselling children's book, the boy becomes an unlikely hero when he enters a traditional public school in the fifth grade. His extraordinary journey unites a community questioning their compassion and acceptance as he proves you can't blend in when you were born to stand out. 
When you have questions about your cable lineup, high-speed internet connection or any other part of your package, please contact us today. Our Buckeye Brainiacs are here to serve you at any of our four locations in the greater Toledo area. Happy viewing and binge-watching many of your favorites flicks and more on Epix.