The Best Ways to Get Repeat Business in the Restaurant Industry Using Free Guest Wifi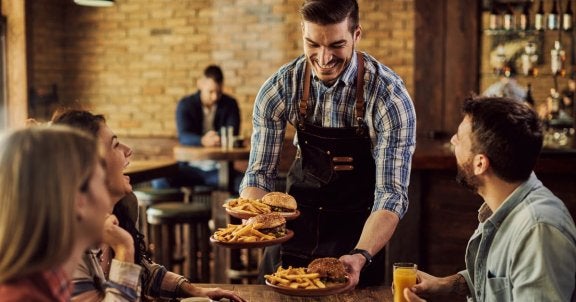 To remain competitive in the hospitality industry, you've got to provide what your customers want. And the key to winning repeat customers in your local community is to offer exactly the relaxing and enjoyable experience they're looking for. You may win repeat customers with food from local farms, a diverse menu that accounts for vegetarians and food allergies. Or you might have an excellent online ordering and delivery service. Or a box lunch program for hungry nearby professionals.
But among all the repeat customer techniques, keeping up with technology is among the most powerful. An engaging website and online menu, for example, are a key part of attracting new customers doing online research. But few things attract dine-in customers more consistently than reliable guest WiFi. With the mobile workforce trend, you might be surprised how much repeat business can be won simply by turning your venue into a friendly place to work out of the office.
Free WiFi can be used in many ways to win repeat business for your restaurant.
Come for the Free Wifi, Stay for the Delicious Menu
Free WiFi is incredibly powerful for bringing in new customers and becoming a favorite hang-out spot for high-tech customers. In the digital era, many students and academics actually choose their venues based on Internet access. They float from free WiFi network to WiFi network, connecting their phones and laptops. And the best restaurants, cafes, and shops with comfy chairs become their go-to stops.
Your restaurant can win a surprising amount of repeat business from laptop professionals who connect to get work done somewhere friendly with coffee refills. Let's take a quick look at the types of high tech customers free WiFi will attract and help you keep coming back:
College Students
College students need to constantly study, write papers, and meet with study groups. They love to hang out in cafes and restaurants because it feels relaxed and allows for snacking during study sessions. And they live on free WiFi. College students access online materials, look up project research, and talk to each other through social media nearly 100% of the time. And you could become their favorite new spot to study.
Students are not only loyal customers alone during personal study time. They also frequently use favorite restaurants as the go-top spot for weekly study groups with enough appetizers and drinks for everyone. If there is a college or university near your restaurant, guest WiFi is sure to attract students who want to eat, relax, and write term papers all at once.
Freelancers
The mobile workforce is real and there are now thousands of professionals who don't have to do their work in the office. They can choose to work at home, on the road, in a public park. But among freelancers and remote-work professionals, there are few styles more popular than settling into a cozy favorite restaurant. They're looking for comfy booths, a great ambiance, and coffee refills. Any welcoming restaurant with power outlets and reliable WiFi is a candidate for freelancers and remote work regulars because they are always looking for a new favorite place to settle in or add to their rotation.
As a savvy modern restaurant, no doubt you understand just how powerful being a favorite spot for freelancers can be. As the employment landscape changes to more and more computer-only remote work, being a fun place to get work done can win you dozens of new repeat customers who come for the WiFi and stay for the great customer experience.
Lunch Breakers and Business Trippers
Then there are the professionals who sometimes work away from the office. Professionals who take time away from the office on their lunch break but still have work to do will flock to restaurants with quick service and free WiFi.
Along the same lines are professionals on business trips. People who are currently unable to work at their desk back in the office but need to get out of their hotel room for a while. A welcoming local restaurant with free WiFi can not only be a good one-time stop. You could become the favorite place for people who take frequent business trips to the same location many times.
Sports Fans
You can even use guest WiFi and hardline Internet to appeal to your sports fan clientele. Groups who come in to watch the game over dinner rely on your restaurant to have the program on. In bad weather, your Internet and cable connection can be used to stream or PPV the stuff your customers came to see. Which will keep them coming back to enjoy your unique game night experience.
Other Ways That Free Wifi Wins Repeat Customers
Of course, just providing connection isn't all you can do with guest WiFi to win repeat customers. The WiFi network also comes with features you can use to reach out to your customers and encourage them to come back for loyalty rewards, special nights, and restaurant promotions. Your WiFi network can be used to share messages, post a calendar, and synchronize mobile devices for in-house events. And all of these can be used in smart ways to increase your customer draw and create enthusiastic repeat business.
Sharing Loyalty Rewards Through Wifi Features
Guest WiFi is a great loyalty reward in its own right, especially for your regulars that come for the reliable Internet connection for school or work. But you can actually share real online and in-house loyalty rewards through your WiFi network as well. Using the features that come with the network and a clever integration of Internet and restaurant services, you can reward your repeat customers every time they come back in with discounts, special opportunities, and even personalized deals.
Restaurant App Integration
If you have a loyalty rewards app, the WiFi makes your app faster and easier to use inside the building. It means that your customers don't have to use up their data plans to connect to the Internet. Or, incidentally, to connect to your restaurant's mobile app. Loyalty reward apps typically connect to your website and keep track of the loyalty points, rewards, and deals that a customer has accumulated and how they can be spent. They also often have online ordering for pick-up and delivery, and in-app payments.
No matter what your app has, combining it with restaurant WiFi and in-house deals is a great way to reward your customers and keep them coming back. Adjust your routine so that guests can order through the app, then accumulate and spend their reward points.
In fact, you can even use your WiFi network to send unique codes to guest apps either granting them additional points for their dine-in experience or allowing them to use their points and pay through the app for a discount or deal.
Wifi Landing Page
But you can also offer in-house loyalty rewards without an app or even mobile website features. The key is your WiFi landing page. You may have seen these in some hotels and restaurants. When a customer connects, the first thing that opens is a landing page of your design. And you can use this for all sorts of things.
One of the best uses is to share active promotions and allow customers to immediately start earning and using loyalty reward points. Include a banner or feature on your landing page that immediately carries guests to their loyalty rewards login. Or you can even make the landing page itself a direct portal to your loyalty rewards system. Giving guests a preview of available deals and rewards before they even log in.
You can also make login easier inviting customers to send or receive a code with their phones to skip the tedious password part of the experience.
Increasing Special Night Attendance
You can also use your guest WiFi to significantly increase attendance for your restaurant's special nights. Whether you have karaoke, theme nights, or just fun promotionals each month, naturally you want your regulars to join the events. And your biggest challenge isn't participation, it's awareness.
Guests often have no idea when the best nights at their favorite restaurant are occurring. You can absolutely use your in-house WiFi to announce your special nights, create a fun countdown, and even get your guests involved in pre-night events like contests, surveys, or raffle entries. Mostly through the landing page, but also through mobile app participation in games and events.
Event Calendar Landing Page
One of the most effective ways to do this is actually using your guest WiFi. Specifically, the landing page. Make your special night event calendar a familiar sight for customers as they log into your WiFi during each visit. This way, every high-tech customer gets a chance to see and plan to attend every special night that looks fun for them.
Post your calendar in a visually attractive way on the landing page with bold announcements on special nights that guests want to come in. You can even connect guest accounts (or remembered devices for repeat customers) to their favorite events which will include special reminders not to miss the next one.
Engaging Interactive Experiences for Repeat Business
Another interesting thing that guest WiFi can do is to increase the engagement for customers visiting your restaurant. When every customer can connect online, you can much more easily play games that require mobile and online elements. If your restaurant has a bar or hosts trivia nights, you can connect the entire restaurant to your app through the free WiFi making it easier for everyone to play. The same can be said for speed dating nights, polling on important news or game nights, and performance-style contests where your audience votes.
If your restaurant does events where customers can get involved, guest WiFi makes mobile connections fast and reliable so that everyone can get involved.
Get Repeat Customers With Buckeye Broadband
There is really no end to the ways you can innovate guest WiFi use in your restaurant. But even without loyalty rewards and special events, reliable WiFi alone will attract a larger number of freelancing, student, and on-the-go regulars who need Internet access with their meal and a comfortable welcoming place to work.
Interested in learning more ways the restaurant industry can gain more customers? Check out our dedicated industry page for tips and statistics. Feel free to visit our Business WiFi page as well if you are looking to improve your customers' experiences.