Enjoy These Top Rated, Local, Best BBQ Joints In and Around Toledo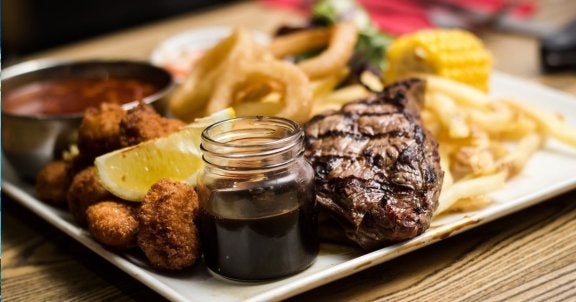 Grilling outdoors and receiving high marks for superior, succulent barbeque skills has been a time-honored tradition for parents during the summer along with chefs across the country and around the world for decades. That certain special sauce, smoky flavors, and ravishing rubs have turned many types of barbecued meats and poultry along with traditional side dishes into a craving many of us simply can't ignore. So where are the best, top-rated, local BBQ joints in the greater Toledo region? They're right here:
City Barbeque
At City Barbeque, their motto is "home is where the smoke is" where they're cooking up competition quality meats, poultry, and scrumptious sides. Fans of this favorite local eatery say the beef brisket is the best and is smoked up to eighteen hours. For those who like a little heat, try the Nashville Hot Chicken Sandwich topped with creamy coleslaw, spicy mayo, and crispy pickles served on a lightly toasted, buttered bun. Yum, yum, gimme sum!
Deet's BBQ
Located in Maumee, Ohio, Deet's BBQ is a family-owned, local, home-style barbeque restaurant and catering company. They boast their eatery "provides a one of a kind dining experience at a price that is sure to make your wallet as happy as your taste buds." Using traditional wood smokers, they're most well known for mouthwatering sliced brisket, St. Louis style ribs, delectable pulled pork, and a wide array of delicious side dishes all made from scratch.
Shorty's True American Roadhouse
There's nothing short or small about Shorty's True American Roadhouse since this family-owned restaurant really delivers when it comes to some of the best barbeque presentations in all of Ohio. With an expansive bar including plenty of happy hour specials, Shorty's have plenty of rave reviews for their delicious side dishes that pair well with BBQ!.  Along with their famous fall-off-the-bone ribs, diners are also able to explore sampler platters to get a selection of some of their most excellent choices.
Smokey's BBQ Roadhouse
Not to be confused with Shorty's, Smokey's BBQ Roadhouse is located in the heart of Oregon, Ohio, and has been serving up its specialties since 2014. Speaking of specials, along with affordable daily delights, their bar offers signature cocktails like the Crooked Accountant, Blueberry Lemonade, and traditional margaritas. Wednesday is known as Steak Night and although beef is available daily, these evenings highlight special cuts and prices.
HONORABLE MENTION: Dave's and Dickey's
While we've highlighted the favorite, usually family-owned and operated restaurants in and around Toledo, still these chains deserve an honorable mention. One of the things that prove popular at these nationwide eateries is diners will almost always find their favorite feasts available at these establishments.
FAMOUS DAVE'S: With three locations serving Northwestern Ohio (Toledo, Sandusky, and North Olmsted), Famous Dave's is known nationally as America's favorite BBQ joint. Made from scratch favorites feature award-winning ribs, a fine selection of famous feasts, a bounty of barbeque combinations, appetizers, burgers, sandwiches, salads, desserts, and more.
DICKEY'S BARBECUE PIT: With a slogan of "Legit-Texas-Barbecue," Dickey's Barbecue Pit has more than 450 locations across the country including several in Ohio. Along with their fan-favorite selection of nearly everything you'd expect from a barbecue restaurant, including brisket, ribs, pulled pork, traditional sides, and more, be sure to sample their fried okra.
Here at Buckeye Broadband, we've always got your back when it comes to everything that's delightful and delicious, in and around Toledo that makes this area so amazing. From the best BBQ in Ohio to technology tips, our Buckeye Blog has you covered. Check out our other community-focused blogs, or discover our other content at any time.