Connecting Kids to Meals - Summer is the Time to Support This Vital Local Charity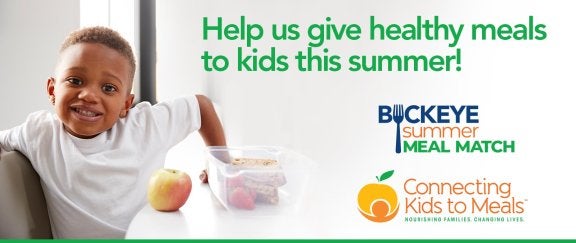 In a recent post, we shared some sad and frightening statistics about childhood hunger along with the dangers that come from youngsters not eating. Also known as food insecurity or not knowing when or where a next meal is coming from is complicated by the confusion coming from the global pandemic. In other words, because of the virus, although businesses, schools, and non-profits are opening back up, then they're often closing down again or being restricted in some way. During these difficult times, here's how a special summer Connecting Kids to Meals program is keeping up with the changes.
Delicious and Sizzling Summer Meals
Often children get meals from school lunch programs that are either at no cost or greatly discounted. However, when away from a classroom setting, too many kids go hungry whether it was because of the pandemic or during the summer months. Also known as the SFSP (Summer Food Service Program), this Toledo-based non-profit steps in when and where school lunch programs aren't available. Although their menus vary, these meals are always:
Available at no cost to recipients
Well-balanced and nutritious 
Never fried and mostly steam-cooked to lock in nutrients without adding unnecessary fat
Made with minimally processed ingredients
Up to high standards set by local and state standards
Speaking of standards, all the meals prepared through SFSP meet or exceed the U.S. Department of Agriculture (USDA) child nutritional requirements. Partnering with other local organizations includes not only schools but also libraries, parks, pools, churches, community centers, and the Ohio Department of Education (ODE). The latter ensures the SFSP complies with all the requirements involving nutritional standards with record keeping and food safety. 
Fun Facts About SFSP and High Hopes For The Future
First off, 2021 marks the 16th year the SFSP has been providing this valuable service to the youngsters of our local community. Last summer, they were able to make more than 7,500 nutritional meals at 145 sites to those in need every single summer day. Speaking of sites, locations include popular places like the Toledo Young Artists at Work at the Toledo Museum of Art and educational venues at Scott High School also located in Toledo. 
Training hundreds of volunteers and workers to prepare, serve and deliver meals to multiple sites, they're hoping to reach new heights to stamp out childhood hunger this year and beyond. This summer SFSP is committed to obtaining at least another additional ten sites in an attempt to achieve a new record for the number of meals provided daily.
They're also hoping to reach a new record for the number of meals made and given out to surpass the quarter-million they served last year during the summer of 2020. At this point, we can't help but hope they surpass the millions or billions of fast food burgers, less-than-healthy meals prepared, sold, and served by a popular fast food provider. 
Let's Stop Childhood Hunger Together
Wondering how you can help or get more information to get involved?  Visit their SFSP webpage (as highlighted above) for a link to a document with more intensive data about this program. Here you'll also find a form and agreement to apply to become an official Summer Site for Connecting Kids to Meals. Plus, Buckeye Broadband will be matching each donation up to 40,000 meals for kids in the area this summer thanks to our Buckeye Summer Meal Match Program. Every $3 donates 12 healthy meals to kids in need.
You can also contact Connecting Kids to Meals via:
EMAIL: info@connectingkidstomeals.org
POSTAL MAIL: Connecting Kids to Meals, ATTN: Program Manager, 1501 Monroe Street, Toledo OH, 43604
PHONE: (419) 720-1106 or Fax: (419) 243-9960
As always, Buckeye Broadband is proud to be a partner with these vital programs and important non-profit organizations. Please feel free to contact us or stop by one of our locations to donate non-perishable food to those in need. Just one can of food, perhaps a package of pasta can mean the difference between a grumbling tummy and a happy, healthy, and well-fed child.